Exercise & Fitness
Staying fit linked to lower breast cancer risk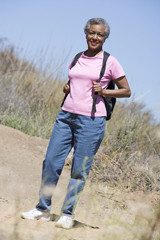 Walking, dancing, running, even Zumba-ing every day appears to reduce a woman's risk of developing breast cancer, according to a study published online in the journal Cancer. The type or intensity of the exercise didn't seem to matter, as long as it was done often. But overeaters be warned: gaining weight seems to cancel out the breast-cancer benefits of this hard work.
How much exercise is needed to lower breast cancer risk? In this study of 3,000 women, 10 to 19 hours a week (about two hours a day) had the greatest benefit. Women who worked out that much had a breast cancer risk about 30% lower than that of inactive women. The intensity of the workout didn't matter in this study—walking, jogging, and running yielded the same benefit.
Age didn't seem to matter, either. Physical activity reduced breast cancer risk in younger women during their reproductive years and older women after menopause. "The observation of a reduced risk of breast cancer for women who engaged in exercise after menopause is particularly encouraging given the late age of onset for breast cancer," study author Lauren McCullough of the University of North Carolina Gillings School of Global Public Health said in a statement.
What did make a difference in the effect of exercise was weight gain—especially after menopause. Gaining a significant amount of weight essentially wiped out the benefits of exercise on breast cancer risk in older women.
The researchers did this study by comparing exercise habits in 1,504 women with breast cancer and about the same number without it. Because the women weren't assigned to different interventions (like exercising vs. staying sedentary), it can't confirm that exercise reduces breast cancer risk. At this point, the link is just an association.
What this study does do is give women of every age another reason to lace up their sneakers and get moving. "Exercise fights obesity, combats heart disease and diabetes, improves mood and memory, strengthens bones, and possibly prevents breast cancer," says Celeste Robb-Nicholson, assistant professor of medicine at Harvard Medical School and editor in chief of Harvard Women's Health Watch. "Exercise is the prescription I like to write most often for women."
Disclaimer:
As a service to our readers, Harvard Health Publishing provides access to our library of archived content. Please note the date of last review or update on all articles. No content on this site, regardless of date, should ever be used as a substitute for direct medical advice from your doctor or other qualified clinician.
Comments
Easterndrugs
August 31, 2012
A number of studies show that regular exercise, avoiding excess weight gain and limiting alcohol can help lower your risk for developing breast cancer. While eating plenty of fruits and vegetables is a healthy decision, the direct benefit of adding fruits and vegetables to your diet when it comes to breast cancer reduction is that they are low in calories and high in nutrients, helping you manage a healthy weight. More research is still needed to prove if vitamin D and soy foods are an effective method for reducing breast cancer risk.

Thanks
Christina
August 23, 2012
I agree with this study wholeheartedly. I have a friend who recently came down with breast cancer – stage 2. She appears to be healthy for the most part, but she never exercised and worked at a restaurant that didn't serve the healthiest food selection. Her overall fitness level was probably close to a 3 or 4 out of 10.

She's advocating awareness now and going through treatment, so I'm going to turn her onto this article just to make sure she's in gear in terms of exercise and fitness. Thanks for writing this Stephanie! 🙂
A very interesting study. I wonder how exactly simple exercise regardless of the kind can all have the same impact? Can you shed any light on this? Exercise is definitively beneficial but I had no idea how much of an impact it could have on something as debilitating. Thanks for expanding my understanding with your fantastic blog!
exercises are really have many benefits for health. cancer cells formed because of viruses that go into blood and the viruses itself formed because of we hadn't any health activities. so, if we have some exercises, I'm sure we can avoid any disease include breast cancer…
Thank you so much for sharing this wonderful article! Many of my patients always give up exercises in the weight loss progress. I am finding reading your article give me some inspiration of what to say to them..really appreciated your good tips discussed in the article

Chloe
Paul F Davis
July 30, 2012
Great post Stephanie!

Stay healthy and fit ladies!

Keep the blood moving and the body sweating so cancer cannot take up residence in you!
Moneka Tonu
July 17, 2012
All people should to know about their fitness. Exercise is the best habit for health, Fitness, Power of memories any thinks. So, good post above .

Thanks for this articles.
Isn't it obvious that daily exercise promotes good health? You can avoid heart attacks, high blood pressure, diabetes to name a few as health conditions that daily exercise can 'cure.' I think we can just conclude that doing regular exercise is good for you. 🙂 Ern
buyacnezine
July 10, 2012
Thanks to your nice blog. It had been very useful for me. Always keep telling such ideas sooner or later as well. This was really things I used to be trying to find, and I'm happy to acquire here! Thanks for writing the information with us.
Exercise fights obesity, and doing the right exercise can help you get results a LOT faster! Tons of studies have shown that interval training is the one of the best ways to lose weight fast. No gym, nothing fancy, just high intensity, followed by short resting periods. Like the article mentioned, age doesn't matter, and with interval training, age or ability doesn't matter either.

It's all about intensity and effort. With Intervals you want to exercise at 90-100 percent of your maximum effort for 30 seconds, then rest for 30 seconds. It doesn't really even matter what the exercise is, you can run in place, do mountain climbers, pushups, etc. Again, the most important thing is effort and intensity. Also- if you're exercising in bursts, you only have to workout for 10-20 minutes, 3x's per week.
A really interesting analysis. I wonder how completely straight-forward exercise irrespective of the nature can every one of the have the same impact? Is it possible to lose just about any minimal on this? Exercise is definitively helpful however I got minimal tip simply how much of a influence it would likely have for an activity because debilitating. Thanks for growing my understanding with the fantastic blog!
Mobile Application Developer
July 6, 2012
A very interesting study. I wonder how exactly simple exercise regardless of the kind can all have the same impact? Can you shed any light on this? Exercise is definitively beneficial but I had no idea how much of an impact it could have on something as debilitating. Thanks for expanding my understanding with your fantastic blog!
Commenting has been closed for this post.