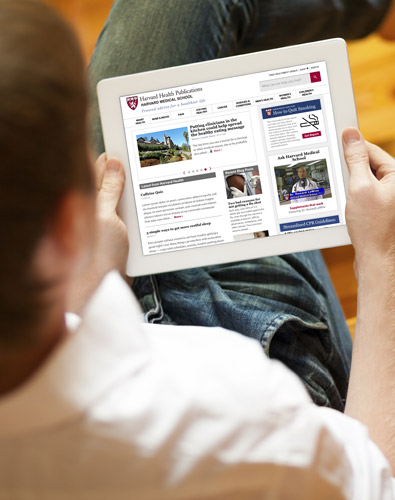 Harvard Health Online
Get all four newsletters, plus more! Subscribe to Harvard Health Online for immediate access to health news and information from the doctors and experts at Harvard Medical School. Any time, day or night, you'll be able to research any health condition or disease, see what your symptoms could mean, research recent test results, read about the latest nutrition and fitness concepts... all from Harvard Medical School. You'll also get electronic subscriptions to all four Harvard health newsletters.
Learn More
Harvard Health Letter
Want to reduce pain in your knees and be more active? Eat smarter and reduce your risk for a heart attack? Improve your flexibility and balance so you don't fall? Sleep the entire night so you have more energy during the day? Take control of your health right now! In Harvard Health Letter, you'll find easy remedies and solutions to these common challenges and more.
Learn More
Harvard Heart Letter
Be on your way to a healthy heart. Subscribe to Harvard Heart Letter today. Each month, you'll get easy-to-try nutrition and exercise advice that will improve your heart's health and overall well-being. In Harvard Heart Letter, you'll also read about today's breakthrough medications and treatments as well as advice from Harvard's doctors on side effects, drug interactions, and surgery precautions.
Learn More
Harvard Women's Health Watch
What's your most important health concern? Chances are, you'll find an article discussing it in a recent issue of Harvard Women's Health Watch. Are you at risk for heart disease? If you eat a balanced diet, are supplements necessary? Will new drugs help prevent breast cancer? Can simple exercises like stretching and walking have a noticeable impact on my health? Subscribe now for answers to questions like these!
Learn More
Harvard Men's Health Watch
Reading Harvard Men's Health Watch each month is the simplest, easiest thing you can do to improve your health. In today's fast-paced, information-packed world, it's not always easy to do the right thing for yourself. But a few minutes each month with Harvard's physicians in the pages of Men's Health Watch can help you reduce your stress, lower your blood pressure, reduce your cancer risk, ease your joint pain, and live a healthier life.
Learn More
Free Healthbeat Signup
Get the latest in health news delivered to your inbox!