Women's Health
Risk factors for benign breast conditions identified


Research we're watching
Noncancerous breast changes appear to be more common in women with a family history of breast cancer. That's one of several factors linked to benign breast problems, according to a study published online June 25, 2021, by JAMA Network Open. The study looked at 61,617 women, ages 40 to 69, who underwent screening mammograms in Sweden. Of this group, 5,341 women were found to have benign breast conditions during the average 35-year follow-up period. The researchers found the following factors were linked to an increased risk of certain benign breast problems:
A family history of breast cancer. Premenopausal women with a family history of the disease were twice as likely to develop a type of noncancerous abnormal cell growth called epithelial proliferation with atypia (EPA). This condition can raise breast cancer risk. They also were more likely to have several benign breast conditions that don't generally raise cancer risk.
Postmenopausal hormone therapy. Women who used hormones after menopause had higher rates of EPA, in addition to two other benign conditions that don't raise cancer risk, compared with women who did not use hormones. The authors pointed out that more research is needed to determine the impact of taking hormones.
The study also linked several factors to lower rates of benign breast conditions:
Obesity. Noncancerous breast conditions were less likely to develop in women who were obese than in women of normal weight, with the exception of epithelial proliferation (EP), another type of abnormal cell growth, similar to EPA but without atypical cells. It can also raise the risk for breast cancer (but less so than EPA).
Not giving birth. Premenopausal women who had not given birth were less likely to develop EP compared with women who'd borne three or more children. However, they were more likely to develop fluid-filled cysts.
Use of oral contraceptives. Women who took birth control pills were less likely to develop a type of breast growth called fibroadenoma with atypia, fibrocystic changes, and cysts compared with those who did not take the pills.

Image: mr.suphachai praserdumrongchai/Getty Images
Disclaimer:
As a service to our readers, Harvard Health Publishing provides access to our library of archived content. Please note the date of last review or update on all articles.
No content on this site, regardless of date, should ever be used as a substitute for direct medical advice from your doctor or other qualified clinician.
You might also be interested in…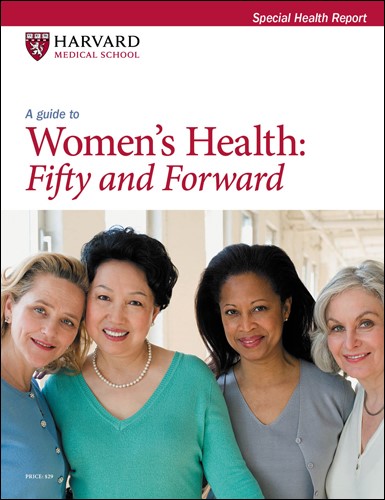 A Guide to Women's Health: Fifty and forward
Midlife can be a woman's halftime celebration. Not only can it be an opportunity to reflect on and rejoice in the life you've lived, but it is also a good time to plan your strategy for the future. A Guide to Women's Health: Fifty and forward will help you determine the conditions for which you are at greatest risk and do your best to avoid them. It will also help you to better manage chronic conditions that may erode your quality of life, and to deal with physical changes that are more bothersome than serious. It is designed to give you the information to make the choices today that will ensure you the best health possible tomorrow.
Read More
Free Healthbeat Signup
Get the latest in health news delivered to your inbox!