By

Elizabeth Pegg Frates, MD, FACLM, DipABLM, Contributor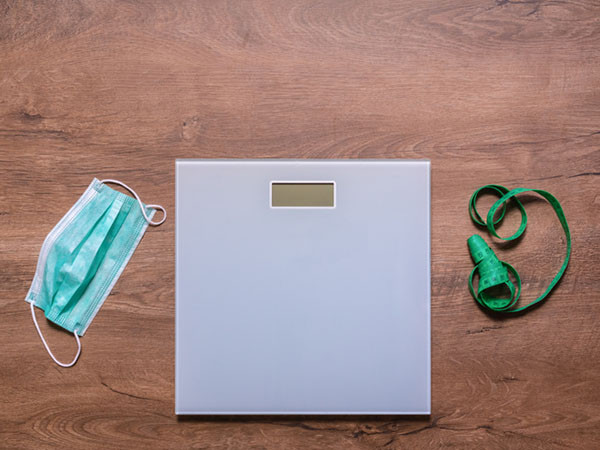 Many people have been talking about the "COVID 15," referring to gaining 15 pounds during quarantine. But did people really gain weight? This question intrigued researchers. So they examined patient data from electronic health records. Specifically, they looked at 15 million patients' weight changes the year prior to the start of the pandemic, and then weight change for one year over the course of the pandemic. As it turns out, 39% of patients gained weight during the pandemic, with weight gain defined as above the normal fluctuation of 2.5 pounds. Approximately 27% gained less than 12.5 pounds and about 10% gained more than 12.5 pounds, with 2% gaining over 27.5 pounds.
The role of stress in weight gain
There was a great deal of stress during the first year of the pandemic, and stress is associated with increased cortisol. Increased cortisol has been associated with increased intake of hyperpalatable foods, which are foods high in salt, fat, or both. There is also evidence that our bodies metabolize food more slowly when under stress. In addition, stress and high cortisol levels are associated with increased belly fat, which puts people at risk for diseases like heart disease and type 2 diabetes. To add to the list of unhealthy effects of stress on the body, high cortisol levels can reduce lean muscle mass, and this in turn has an impact on your metabolic rate. The less lean muscle mass you have, the lower your metabolic rate and the fewer calories you burn at rest. All of this is a set-up for weight gain and poor health with increased stress.
Not everybody put on pounds during quarantine
Some people respond to stress by not eating. These people ignore their hunger cues, and so some lose weight during times of stress. As it turns out, the electronic health record analysis revealed that 35% of patients lost weight during the first year of the pandemic. Few people were complaining about losing weight, so we heard less about it. The reasons for this are likely multifaceted. It is possible that people were sitting more and moving less. Thus, they lost muscle mass and gained fat (fat weighs less than muscle).
A healthier reason for this weight loss may be that people prioritized their health and had more control over their food. They were cooking in their own kitchens, and research demonstrates that cooking for yourself and not going to restaurants may help you lose weight. A University of Minnesota study tracked the eating habits and health of 3,031 people for 15 years: those who had fast food two or more times per week gained 10 pounds more than those who rarely ate this way. In another study from the same university, women who went out for fast food one extra time per week during a three-year study gained an extra 1.6 pounds.
Additionally, some people took quarantine time as an opportunity to work out and focus on their fitness, nutrition, and sleep. These people likely lost weight. It is also possible that without a work commute, people made time for exercise and preparing healthier meals at home.
Whether you gained or lost weight during quarantine, you are not alone
Where do we go from here? If you gained weight during quarantine, you have an opportunity to change your habits and work to follow the six pillars of lifestyle medicine (exercise, healthy eating, sound sleep, social connections, stress resilience, and avoiding risky substance use) to help you lose weight, improve your health, and enhance your sense of well-being. Here are ways to avoid slow weight gain over the years (pandemic or not).
Follow me on Twitter @BethFratesMD
About the Author
Elizabeth Pegg Frates, MD, FACLM, DipABLM, Contributor
Dr. Beth Frates is a trained physiatrist and a health and wellness coach, with expertise in lifestyle medicine. She is an award-winning teacher at Harvard Medical School, where she is an assistant clinical professor. Dr. Frates …
See Full Bio
View all posts by Elizabeth Pegg Frates, MD, FACLM, DipABLM
Disclaimer:
As a service to our readers, Harvard Health Publishing provides access to our library of archived content. Please note the date of last review or update on all articles.
No content on this site, regardless of date, should ever be used as a substitute for direct medical advice from your doctor or other qualified clinician.