Pill-free ways to fight urinary incontinence
New guidelines recommend solutions that don't require medication.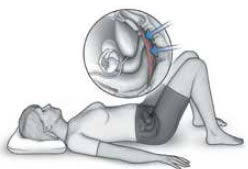 Illustration: Scott Leighton

To perform a Kegel, squeeze the muscles you would use to start and stop urination or hold in a bowel movement. Hold the contraction for five seconds, then release. Try to do three sets of 10 Kegel exercises a day.
It may be funny to say you laughed so hard that you wet your pants. But there's nothing funny about it for millions of people who leak urine when they laugh, cough, or sneeze. "People are embarrassed by the condition. And some live with it because they believe there's nothing you can do about it," says Dr. May Wakamatsu, director of female pelvic medicine and reconstructive surgery at Massachusetts General Hospital and co-editor of the Harvard Special Health Report Better Bladder
and Bowel Control.
To continue reading this article, you must
login
.
Subscribe to Harvard Health Online for immediate access to health news and information from Harvard Medical School.