Staying Healthy
Confused about eating soy?

Image: © hanhanpeggy/Getty Images
The FDA wants to pull its support of the health claim that eating soy protein may help reduce the risk of heart disease. The agency proposed the change last fall, citing evidence that questions whether there's any real benefit to heart health. If the FDA goes through with the move, then food makers will no longer be allowed to market soy products with the claim that they can help your heart. But soy won't hurt your heart, and soy does have other benefits. "It's high in polyunsaturated fats, fiber, vitamins, and minerals, and low in saturated fat. Natural soy products — like tofu or edamame — could replace red meat and other animal sources of protein higher in saturated fat," says dietitian Kathy McManus, director of the Department of Nutrition at Harvard-affiliated Brigham and Women's Hospital. One caveat: some soy products contain estrogen-like chemicals that could have adverse effects. So, stay away from soy isoflavone supplements and foods made with textured vegetable protein and soy protein isolate, found in many protein powders and nutrition bars. Still, McManus says it's okay to eat whole soy foods — like soy milk, edamame, and tofu — in moderation, several times per week.
Disclaimer:
As a service to our readers, Harvard Health Publishing provides access to our library of archived content. Please note the date of last review or update on all articles.
No content on this site, regardless of date, should ever be used as a substitute for direct medical advice from your doctor or other qualified clinician.
You might also be interested in…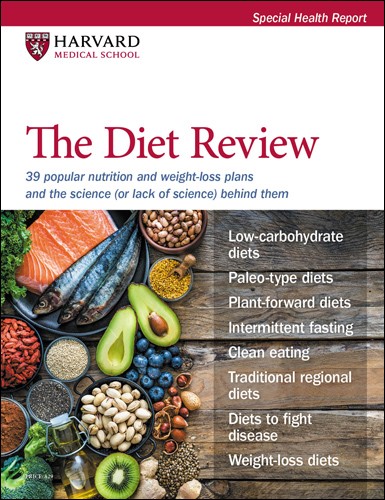 The Diet Review: 39 popular nutrition and weight-loss plans and the science (or lack of science) behind them
You have tremendous latitude in what goes into your daily diet—and the choices you make can have profound consequences for your health. But what diet should you choose? The range is truly dizzying. Just some of the diets you might encounter are vegan, pegan, and portfolio. Raw food, whole foods, and Whole 30. Keto, carnivore, and paleo. Clean eating and intermittent fasting. DASH, MIND, and Volumetrics. Mediterranean, Nordic, and Okinawan. What does it all mean? And how can you begin to make sense of it? This Special Health Report is here to help.
Read More
Free Healthbeat Signup
Get the latest in health news delivered to your inbox!