Mind & Mood
Some blood pressure drugs are linked with better memory

In the journals
The blood-brain barrier protects the brain from toxic substances. While some medication can penetrate this defensive wall and cause memory problems, certain drugs that treat high blood pressure appear to be associated with better cognitive function.
In an analysis published in the August 2021 issue of Hypertension, researchers gathered information from 14 observational studies of nearly 12,900 adults ages 50 years and older with high blood pressure. It looked specifically at people who took either ACE inhibitors or angiotensin II receptor blockers (ARBs) to treat their condition. There are many types of drugs within these two classes, some of which can cross the blood-brain barrier.
After three years on their medication, those who took an ACE inhibitor (such as lisinopril) or an ARB (like candesartan) that crosses the blood-brain barrier, scored higher on memory recall tests, when compared with those who took a different drug in the same class that doesn't cross over.
High blood pressure is a risk factor for cognitive decline and dementia in older adults, and treatment with lifestyle changes and all types of blood pressure medications can lower the risk. But these findings suggest that certain blood-brain-crossing blood pressure drugs may offer additional brain benefits.
Image: doublediamondphoto/Getty Images
Disclaimer:
As a service to our readers, Harvard Health Publishing provides access to our library of archived content. Please note the date of last review or update on all articles.
No content on this site, regardless of date, should ever be used as a substitute for direct medical advice from your doctor or other qualified clinician.
You might also be interested in…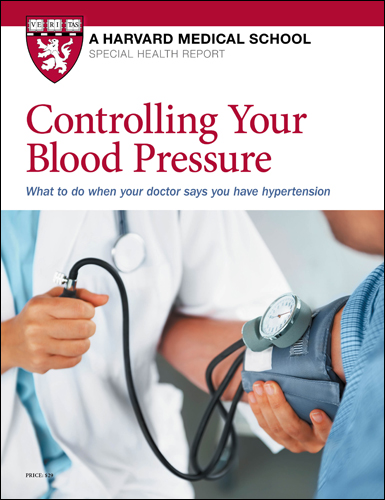 Controlling Your Blood Pressure
An alarming one in three American adults has high blood pressure. Known medically as hypertension, many people don't even know they have it, because high blood pressure has no symptoms or warning signs. But when elevated blood pressure is accompanied by abnormal cholesterol and blood sugar levels, the damage to your arteries, kidneys, and heart accelerates exponentially. Fortunately, high blood pressure is easy to detect and treat. In the Special Health Report, Controlling Your Blood Pressure, find out how to keep blood pressure in a healthy range simply by making lifestyle changes, such as losing weight, increasing activity, and eating more healthfully.
Read More
Free Healthbeat Signup
Get the latest in health news delivered to your inbox!