Staying Healthy
How much protein do you need every day?
Wondering how many grams of protein to have per day? The answer may surprise you. Discover the recommended daily protein intake and how to calculate it here.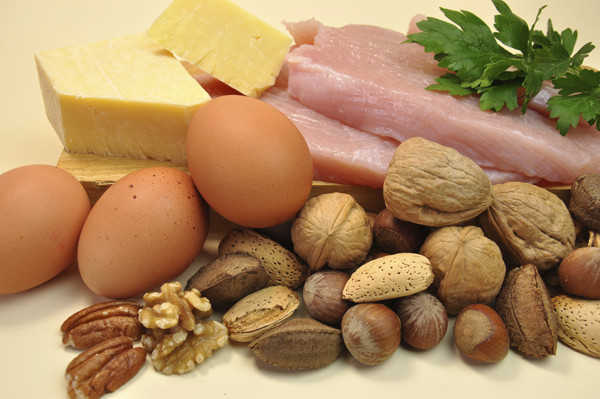 Protein is essential to good health. The very origin of the word — from the Greek protos, meaning "first" — reflects protein's top-shelf status in human nutrition. You need it to put meat on your bones and to make hair, blood, connective tissue, antibodies, enzymes, and more. It's common for athletes and bodybuilders to wolf down extra protein to bulk up. But the message the rest of us often get is that our daily protein intake is too high.
How much protein do I need a day?
The Recommended Dietary Allowance (RDA) for protein is a modest 0.8 grams of protein per kilogram of body weight, or 0.36 grams per pound. The RDA is the amount of a nutrient you need to meet your basic nutritional requirements. In a sense, it's the minimum amount you need to keep from getting sick — not the specific amount you are supposed to eat every day.
To determine your daily protein intake, you can multiply your weight in pounds by 0.36, or use this online protein calculator.
Daily protein intake for women
For a 50-year-old woman who weighs 140 pounds woman and who is sedentary (doesn't exercise), that translates into 53 grams of protein a day.
During pregnancy, protein needs of women go up. Experts recommend 75 to 100 grams of protein a day for the developing fetal tissue, as well as the enlarging placental,, breasts, and blood supply. You should check with your doctor on your specific protein needs.
Protein: Is more better?
For a relatively active adult, a daily protein intake to meet the RDA would supply as little as 10% of his or her total daily calories. In comparison, the average American consumes around 16% of his or her daily calories in the form of protein, from both plant and animal sources. But is that too much?
For some people, there may be potential benefits of higher daily protein intake to preserve muscle mass and strength. How and when you consume protein might also influence its effectiveness. Some studies described in the summit reports suggest that protein is more effective if you space it out over the day's meals and snacks, rather than loading up at dinner like many Americans do.
However, over the last several years, the public health message has shifted away from desired percentages of protein, fats and carbohydrates. For example, the current Dietary Guidelines for Americans emphasize the importance of eating healthier protein rich foods rather than concentrating on specific amounts of daily protein.
For daily protein intake, think "protein package"
Research on how much protein is the optimal amount to eat for good health is ongoing, and is far from settled. The value of high-protein diets for weight loss or cardiovascular health, for example, remains controversial.
Before you start ramping up your daily protein intake, there are a few important things to consider. For one, don't read "get more protein" as "eat more meat." Beef, poultry, and pork (as well as milk, cheese, and eggs) can certainly provide high-quality protein, but so can many plant foods — including whole grains, beans and other legumes, nuts, and vegetables. The table below provides some healthier sources of protein.
It's also important to consider the protein "package" — the fats, carbohydrates, vitamins, minerals, and other nutrients that invariably come along with protein. Aim for protein sources low in saturated fat and processed carbohydrates and rich in many nutrients.
One more thing: If you increase protein, dietary arithmetic demands that you eat less of other things to keep your daily calorie intake steady. The switches you make can affect your nutrition, for better or for worse. For example, eating more protein instead of low-quality refined carbohydrates, like white bread and sweets, is a healthy choice — though how healthy the choice is also depends on the total protein package.
"If you are not eating much fish and you want to increase that — yes, that might improve the overall nutrient profile that would subsequently improve your health," says registered dietitian Kathy McManus, director of the Department of Nutrition at Harvard-affiliated Brigham and Women's Hospital. "But I think the data are pretty strong against significantly increasing red meat, and certainly processed meat, to get protein."
If weight loss is your main concern, trying a higher-protein diet is reasonable, but don't expect it to be a panacea. "Patients come to me all the time asking if more protein will help them in weight loss," McManus says. "I tell them the verdict is still out. Some studies support it, some studies don't."
Good sources of protein

Food

Protein (grams)

3 ounces tuna, salmon, haddock, or trout

21

3 ounces cooked turkey or chicken

19

6 ounces plain Greek yogurt

17

½ cup cottage cheese

14

½ cup cooked beans

8

1 cup of milk

8

1 cup cooked pasta

8

¼ cup or 1 ounce of nuts (all types)

7

1 egg

6

Source: USDA National Nutrient Database
Image: MillefloreImages/Getty Images
Adapted from a Harvard Health Blog post by Danial Pendick
About the Reviewer
Howard E. LeWine, MD, Chief Medical Editor, Harvard Health Publishing
Dr. Howard LeWine is a practicing internist at Brigham and Women's Hospital in Boston, Chief Medical Editor at Harvard Health Publishing, and editor in chief of Harvard Men's Health Watch.
See Full Bio
View all posts by Howard E. LeWine, MD
Disclaimer:
As a service to our readers, Harvard Health Publishing provides access to our library of archived content. Please note the date of last review or update on all articles.
No content on this site, regardless of date, should ever be used as a substitute for direct medical advice from your doctor or other qualified clinician.