Ask the doctor: Acupuncture for knee pain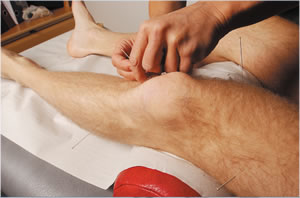 Image: Thinkstock
Q. I have had arthritis of the knee for many years, and I prefer not to take medications for the pain. Can acupuncture help?
A. Acupuncture has been promoted for many conditions, but the results for knee arthritis have been mixed. A recent study in The Journal of the American Medical Association showed that acupuncture had a small benefit compared with no treatment in people with knee arthritis. However, when compared with a simulated or "sham" acupuncture treatment; real acupuncture was not more effective. A larger study published in 2006 with more than 1,000 people showed a similar finding.
It is difficult to interpret the results of acupuncture studies. Some researchers argue that the equal benefits of sham and real acupuncture suggest that any "hands-on" treatment with a caring health care provider can reduce pain because of the placebo effect. Supporters of acupuncture often attribute a study's lack of positive results to the particular acupuncture technique or treatment regimen used.
To continue reading this article, you must
login
.
Subscribe to Harvard Health Online for immediate access to health news and information from Harvard Medical School.