Women's Health
Yes, you can have better sex in midlife and in the years beyond
If sustaining intimacy is becoming more difficult, there are many approaches that can help.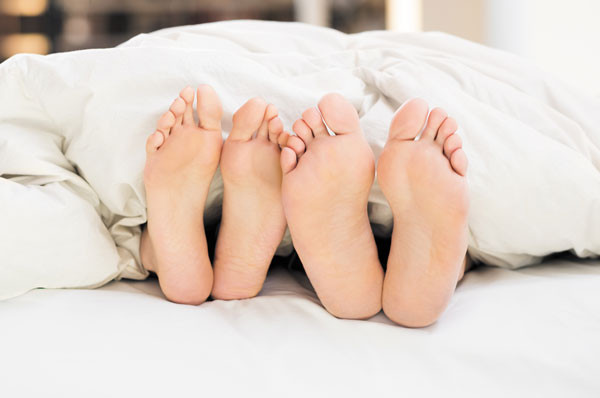 Image: © Ridofranz /Thinkstock
Even if, as the saying goes, the brain is a woman's most important sex organ, we can't deny the role our bodies play—especially as we get older. Satisfying sex depends on several things: presence of desire, arousal, absence of pain, and an ability to reach orgasm. After menopause, libido declines, and changes in our bodies can make it difficult to get aroused, painful to have intercourse, and impossible to climax. It's little wonder that many women become dissatisfied with sex, and some avoid intimacy entirely.
Several years ago, a large national survey found that sexual activity fell precipitously with age. Fewer than half of women ages 57 to 73 said they were sexually active, and those who were had sex less than twice a month, on average.
Nature didn't intend for women to be sexually active after menopause, so women have to work at it and be creative. To do so, women need to explore the emotional, physical, and medical factors that may sabotage sexual response and take advantage of a wide variety of therapies to address them.
Raising libido
Lack of desire is a major issue and one for which there is no quick fix for women. Flibanserin (Addyi), the much-hyped "pink pill," didn't prove to be one. As the first drug approved to stimulate female libido, it has been shown to only slightly improve sexual satisfaction in some women, and it's meant to be prescribed only for premenopausal women. It also has substantial side effects, including low blood pressure, fainting, and nausea.
That doesn't mean there aren't other solutions for women. Finding them entails exploring the reasons you might have lost interest in sex and designing a treatment to address them. Among the most common contributors to lost libido are these:
Declining hormone levels. In women, both estrogen and testosterone can contribute to libido. Estrogen is manufactured by the ovaries and in body tissues; testosterone, by the ovaries and adrenal glands. While estrogen levels drop sharply at menopause, testosterone levels decline slowly and steadily with age. Woman whose ovaries are removed before menopause often experience a dramatic loss of libido. Some studies have shown that systemic hormone replacement therapy can improve libido and sexual responsiveness in women, although it might take three to six months before it's fully effective. Moreover, the health risks might outweigh the benefits for most older women.
Depression. Becoming increasingly common at midlife, depression notoriously dampens desire. Taking a selective serotonin reuptake inhibitor (SSRI) like fluoxetine (Prozac) or paroxetine (Paxil) can be effective for depression, but it can also reduce your sexual responsiveness. Switching to bupropion (Wellbutrin) helps some women, although it may not completely restore lost libido.
Medication. Drugs for high blood pressure can also affect desire. Since there are many options available, your physician can help you find one that keeps your blood pressure down without lowering your libido.
Physical illness. Undergoing treatment for cancer or another serious illness can diminish interest in sex.
Stress and anxiety. Job pressures, family responsibilities, lack of privacy, and worries about children or aging parents can render sex a low priority.
Relationship strains. If you feel yourself growing away or disconnected from your partner, you aren't as likely to be interested in sex with him or her.
Aiding arousal and orgasm
Both arousal and orgasm depend on a complex array of psychological and physical factors. Issues that reduce libido can also affect arousal and orgasm. In addition, when blood flow to the genitals and pelvis is diminished or nerves are damaged, it can be difficult to achieve either. Identifying and addressing lifestyle factors may increase your sexual response. These are the most common physical factors impeding arousal and orgasm:
Alcohol. Although a glass of wine might enhance your libido, heavy drinking can make it difficult to achieve orgasm.
Health conditions. Diseases that affect blood flow and nerve function, including diabetes, kidney disease, heart disease, and multiple sclerosis, can reduce sexual responsiveness.
Medication. Drugs to lower blood pressure can delay or prevent orgasm. Antidepressants, particularly SSRIs, can also impede orgasm.
Clinical trials have demonstrated that the following may be helpful in stimulating arousal and orgasm:
Zestra. A massage oil that creates a sensation of warmth throughout the genital area, Zestra increased desire, arousal, and satisfaction in 70% of the women enrolled in clinical trials required for FDA approval. It is available over the counter for around $10.
Clitoral Stimulation Devices. For example, the Eros Clitoral Therapy Device increases genital blood flow by applying a gentle vacuum to the clitoris. It's approved by the FDA and costs around $300.
Vibrators. There is no dearth of these devices, none of which requires FDA approval, so there aren't a lot of studies demonstrating their effectiveness. In one of the few clinical trials—a 2016 study of 70 women who had difficulty becoming aroused or reaching orgasm—two-thirds of participants reported increased vaginal lubrication, orgasm, and genital sensation after using a vibrator for three months.
Dealing with pain
Dyspareunia—pain during intercourse—affects about half of postmenopausal women and is one of the most common reasons women shy away from sex. Pain may be more pronounced during entry or deep penetration and is likely to stem from one of the following:
Vaginal atrophy. When estrogen plummets following menopause, the vaginal lining thins, vaginal walls become less elastic, and lubrication diminishes. These changes can result in vaginal dryness, burning, or itching that is exacerbated during entry. Topical estrogen—as a cream, a suppository, or a ring that releases the hormone over three months—can help plump up vaginal tissues and aid lubrication. A vaginal insert containing dehydroepiandrosterone (Intrarosa), which was approved by the FDA in 2016, is an alternative for breast cancer survivors who don't want to risk absorbing estrogen. Water-based lubricants and longer-lasting silicone-based lubricants can also make penetration less painful.
Urogenital inflammation. Vaginal and urinary tract infections and skin conditions like eczema, psoriasis, lichen sclerosus, and lichen planus may cause entry pain and can be treated with antibiotics or topical steroid creams.
Chronic conditions and treatments. Treating underlying medical conditions like back pain, hip problems, uterine prolapse, and irritable bowel syndrome can relieve pain. When pain with deep penetration is due to radiation, chemotherapy, or surgical scarring, physical therapy—in the form of exercises and massage to relax and stretch tissues in the pelvic area—can also be helpful. However, it may take several weeks or months of physical therapy to substantially alleviate the problem.
Working with your partner
Communication with one's partner is the foundation of a healthy sexual relationship:
Be honest. Don't try to fake it if your libido has dropped. Let your partner know when sex is painful.
Compromise. If one of you wants to have sex more frequently than the other, you should try to find a middle ground.
Experiment: If intercourse is painful, the two of you might try new positions and techniques that may be more comfortable. It may help to remember that vaginal intercourse isn't the only option. Genital stimulation and oral sex may provide as much satisfaction as you need.
Even the most compatible couples usually need to make adjustments as their relationship matures. Being in a new relationship can bring a surge of libido, but after a while the shine begins to wear off and you may need to work at it. To restore the luster, try doing things you and your partner used to enjoy together at the beginning of your relationship. Recreating the atmosphere that set the stage for romance years ago can have the same effect today.
Disclaimer:
As a service to our readers, Harvard Health Publishing provides access to our library of archived content. Please note the date of last review or update on all articles.
No content on this site, regardless of date, should ever be used as a substitute for direct medical advice from your doctor or other qualified clinician.