The magic of mindfulness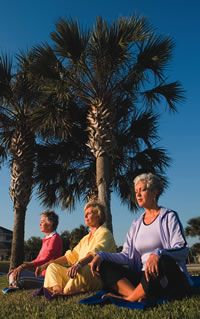 Photos: Thinkstock
Simple, life-changing steps to get engaged and get healthy.
In our fast-paced, multitasking world, focusing on anything for more than a few moments at a time can be challenging. But learning to focus your attention on the present moment can have benefits that affect not only your attention span but also your health. That's why a practice called mindfulness has become a popular meditation technique for everything from stress reduction to chronic pain management. "It's the mind-body effect that's getting a lot of press and research, and for good reason. It works, and there's scientific support behind that," says Harvard Medical School professor Dr. Herbert Benson, a pioneer and world-renowned expert on the physiological changes that occur during meditation.
The concept
Mindfulness has its roots in Buddhism. It's about training your mind to focus on the present moment without judging thoughts and sensations. If that seems difficult, think about times when you've found yourself engrossed in an activity, such as dancing, listening to music, or painting—anything that allows you to become absorbed in it. If you can do that, you can practice mindfulness.
To continue reading this article, you must
log in
.
Subscribe to Harvard Health Online for immediate access to health news and information from Harvard Medical School.