Guide to the Mediterranean diet
By

Jenette Restivo, Health Writer, Harvard Health Publishing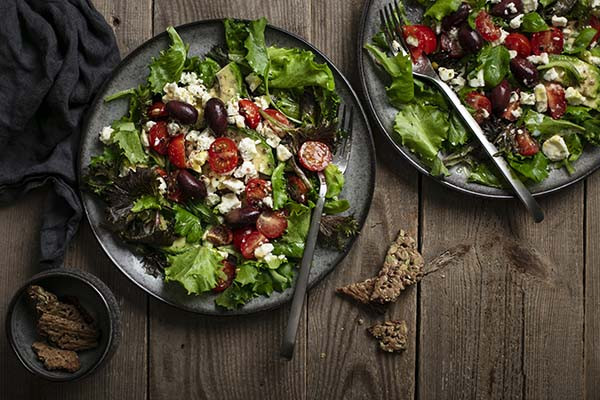 Heralded as one of the healthiest diets in the world, the Mediterranean diet is one of the most popular diets today. Learn the essentials of this diet, including its health benefits, and how to start eating Mediterranean style.
What is the Mediterranean diet?
The Mediterranean diet is a style of eating that emphasizes minimally processed, plant-based foods. It includes fruits, vegetables, nuts, beans, whole grains including whole-grain pasta and breads, olive oil, red wine, and small amounts of fish, eggs, dairy, and meats.
As the name implies, the Mediterranean diet is inspired by the traditional eating habits of people living in countries bordering the Mediterranean Sea, particularly the olive-growing cultures of Southern Italy, Crete, and Greece.
There is no single Mediterranean diet. The details of what characterizes Mediterranean-style eating can shift from country to country due to differences in culture, ethnic background, religion, economy, geography, and agricultural production. However, the various versions of a Mediterranean diet share common features such as:
plentiful vegetables and fruits, whole grains, legumes, fish, nuts, seeds, and olive oil
low to modest amounts of meat and dairy
very limited processed foods or sugars.
Mediterranean diet food list
In general, the following foods are eaten frequently, moderately, and rarely as part of the Mediterranean diet:
High intake (several times a day)
fruits
vegetables
whole grains
nuts
legumes
extra virgin olive oil
Moderate intake (several times a week)
fish/seafood
poultry
eggs
dairy foods such as cheese and yogurt
Low intake (several times a month)
sweets containing added sugars or honey
red meat.
In addition, red wine may be consumed in low to moderate amounts, usually with meals.
Health benefits of the Mediterranean diet
Numerous studies have looked at the health effects of the Mediterranean diet over the years. Studies have linked the diet to lower cardiovascular risk and several other health benefits.
In one study, over a period of 12 years, women who most closely followed a Mediterranean diet had a 25% reduced risk of four cardiovascular events, including heart attack and stroke, compared to women whose diet least resembled a Mediterranean diet.
Among the health benefits of following a Mediterranean diet is lower risk of the following:
cardiovascular disease
heart attack
stroke
various types of cancer
Parkinson's disease
Alzheimer's disease
type 2 diabetes
rheumatoid arthritis
nonalcoholic fatty liver.
Researchers have also studied associations between a Mediterranean diet and aging. One study of over 10,000 women ages 57 to 61 found that women who followed a Mediterranean-type eating pattern were 46% more likely to live to 70 or older without chronic disease.
The health benefits of this eating style make it a top recommendation for health experts. The American Heart Association (AHA) recommends the diet for the role it can play in preventing heart disease and stroke, and reducing risk factors such as obesity, diabetes, high cholesterol, and high blood pressure. In addition, the USDA's Dietary Guidelines for Americans, 2020–2025 supports a healthy Mediterranean-style pattern.
Benefits of a Mediterranean lifestyle
But diet isn't the only piece of Mediterranean living that's important for health. Along with eating style, lifestyle habits that include exercise and social connections also contribute to health benefits.
One study looked at what type of impact these other lifestyle factors might have on the health of people following the Mediterranean diet. The study found that people who adhered to the Mediterranean lifestyle's tenets of adequate rest, exercise, and socializing had a lower risk of dying from cancer or from any cause.
A 7-day sample Mediterranean-style diet meal plan
How can you bring the health benefits of a Mediterranean diet into your life? To get started, mix and match from the following list of breakfast, lunch, and dinner ideas for a week's worth of Mediterranean diet-style meal inspiration.
Breakfast
whole-grain bread topped with ricotta cheese, slices of fresh tomato, drizzled with a little extra virgin olive oil
vegetable omelet with mushrooms, spinach, and onions cooked in olive oil with crusty whole-grain bread
plain Greek yogurt topped with nuts and fresh berries
Lunch
Greek salad made with chopped mixed greens, kalamata olives, tomatoes, fresh parsley, feta cheese, dressed with extra virgin olive oil and freshly squeezed lemon
chickpea and farro salad with red peppers, spring onions, and fresh oregano, dressed with extra virgin olive oil and lemon juice
vegetarian pizza topped with mozzarella cheese, roasted broccoli, onions, green peppers, and carrots
lentil, farro, and vegetable soup
Dinner
grilled vegetable kabobs with shrimp, toasted quinoa salad, and mixed green salad with pine nuts
steamed mussels with spinach-orzo salad and minestrone soup
salmon, whole-grain pilaf, roasted vegetables, green salad with olive oil vinaigrette
buddha bowl with whole grain, vegetables, plant protein, and flavorful sauce
About the Author
Jenette Restivo, Health Writer, Harvard Health Publishing
Jenette Restivo is a Health Content Writer at Harvard Health Publishing. Jenette is a media professional with a 20-year-career creating strategic content for broadcast, nonprofits, and websites. Jenette started her career in health editing at About.com. She …
See Full Bio
View all posts by Jenette Restivo
About the Reviewer
Teresa Fung, MS, RD, ScD, Contributor
Teresa Fung is an adjunct professor at the Harvard T.H. Chan School of Public Health. She received her BS and MS in nutrition from Cornell University, and her ScD in both nutrition and epidemiology from HSPH. She …
See Full Bio
View all posts by Teresa Fung, MS, RD, ScD
Disclaimer:
As a service to our readers, Harvard Health Publishing provides access to our library of archived content. Please note the date of last review or update on all articles.
No content on this site, regardless of date, should ever be used as a substitute for direct medical advice from your doctor or other qualified clinician.