Cancer
Treating prostate cancer with combined hormonal-radiation therapy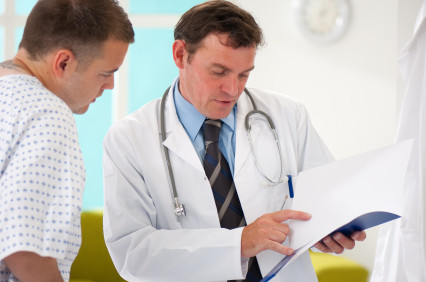 Androgens, the family of male sex hormones that includes testosterone, function as a fuel for growth in normal development. However, in some men they can also drive the progression of prostate cancer. Hormonal therapy treats prostate cancer by dramatically reducing levels of testosterone and other androgens.
Hormonal therapy is sometimes given in conjunction with external beam radiation to boost the effectiveness of treatment. Hormonal therapy may also be used to shrink the size of large prostate glands (typically defined as those weighing more than 50 grams) before brachytherapy takes place, to enable proper placement of the radioactive seeds.
Combination hormonal/radiation therapy is now a standard option for men with cancer that has extended beyond the prostate (stage T3 or T4) or whose cancer is considered high-risk based on other clinical findings, with studies showing that it reduces the risk of dying from prostate cancer and other causes more than with either treatment given alone..
Some studies show that patients who have locally advanced prostate cancer have better outcomes if hormonal therapy continues for at least two years after radiotherapy. For example, one study launched in 1992 and enrolled approximately 1,500 men with cancer in both lobes of the prostate, or cancer that had spread into nearby tissues, such as the bladder. The data show that after 20 years, men who got the long-term treatment had a 40% lower risk of the cancer spreading and a 33% lower risk of dying from prostate cancer than the men who were given hormonal therapy for just four months. In another study, scientists reported that hormonal therapy and radiation given together were more effective than radiation by itself at treating recurring prostate cancer after radical prostatectomy.
Combination therapy can also be considered for men with localized prostate cancer in the intermediate-risk category. Whether men with low-risk prostate cancer would benefit from a hormonal therapy–radiation combination is uncertain.
Combined treatment is more likely than radiation alone to cause erectile dysfunction (ED)—and some research suggests that the problem may be less responsive to drugs like sildenafil (Viagra) and tadalafil (Cialis) and other intervention to improve erectile function after treatment. The research is conflicting about whether any of these side effects persist in the long term. Until more is known, be aware that side effects do occur with combined therapy and that it's important to discuss this issue with your doctor.
Image: sturti/Getty Images
Disclaimer:
As a service to our readers, Harvard Health Publishing provides access to our library of archived content. Please note the date of last review or update on all articles.
No content on this site, regardless of date, should ever be used as a substitute for direct medical advice from your doctor or other qualified clinician.
Free Healthbeat Signup
Get the latest in health news delivered to your inbox!