Chemical in food can liners may boost blood pressure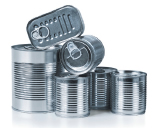 Images: Thinkstock
Some plastic bottles, food containers, and linings of cans contain bisphenol A (BPA), a chemical that's been under close scrutiny because of its potential effects on human health. Most Americans have traces of BPA in their urine, and some research hints of a possible link between BPA exposure and cardiovascular disease. Now, a study in the September 2014 Hypertension finds that BPA exposure from cans may raise blood pressure.
Sixty older adults drank two servings of soymilk provided one of three ways: in two glass bottles (providing the least BPA), two cans (most BPA), or one glass bottle and one can. Two hours after participants drank from the cans, their urinary BPA levels were much higher than after they drank from two glass bottles. And their systolic blood pressure (the first number in a blood pressure reading) was roughly 4.5 mm Hg higher after two cans versus two glass bottles.
To continue reading this article, you must
log in
.
Subscribe to Harvard Health Online for immediate access to health news and information from Harvard Medical School.