Should you worry if you have a fainting spell?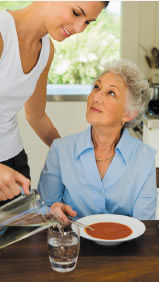 Drinking lots of liquids helps prevent fainting and is especially important in warm weather.
Image: Thinkstock
A fainting spell can be inconsequential, or it can signal a serious health issue. It's important to learn why you faint.
Fainting can be scary, but it's also quite common. Half of women who have reached the age of 80 have fainted at least once. Fainting itself isn't usually serious; people who faint usually come to within a minute. However, it may signal an underlying health problem, and it puts you at risk for serious injuries from falling as you pass out.
To continue reading this article, you must
login
.
Subscribe to Harvard Health Online for immediate access to health news and information from Harvard Medical School.