Doctor's note: Goal setting and your health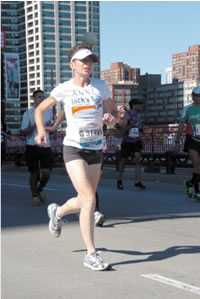 Photo: Anne Fabiny/Chicago Marathon
Dear Readers,
Last winter, my sister sent me an email asking whether I wanted to run the Chicago Marathon with her in October 2013. My initial response was, "Oh my gosh, no." I am a committed exerciser and runner, but the thought of tackling such an ambitious goal made me feel anxious and insecure. I hesitated for a long time, but after much deliberation decided that I would register for the race.
I am 53 years old and I want to keep myself as mentally and physically flexible as I can be, for as long as I can. Training for a marathon would certainly serve that purpose! I wondered whether I could set three goals for myself: train without injury, run the Chicago Marathon in under four hours, and qualify for the Boston Marathon.
When I reflect back on how I finally came to say "yes" to my sister, I think it was about having high expectations for myself. Even if I did not achieve my goals, I would have at least tried and learned something in the attempt. My unexpected discovery through this process was the power of setting smaller, incremental goals.
To continue reading this article, you must
login
.
Subscribe to Harvard Health Online for immediate access to health news and information from Harvard Medical School.