Don't bomb the bowel with laxatives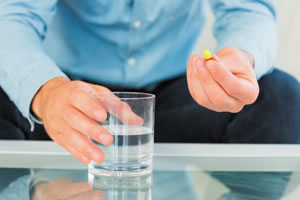 Image: Thinkstock
If constipation becomes chronic, don't keep playing laxative roulette. See your doctor for an exam.
Occasional irregularity is a fact of life, but you can minimize it with some basic steps. "Men should be sure they are eating a fiber-rich diet, drinking adequate fluids, and staying physically active," says Dr. Jacqueline Wolf, a gastroenterologist and associate professor of medicine at Harvard-affiliated Beth Israel Deaconess Medical Center. But when you do have constipation, start with the gentlest and safest option, like a bulk-forming laxative. If laxatives don't work, ask for help. "You should see your doctor and discuss it if you are constantly needing to take laxatives," Dr. Wolf says. "People shouldn't have to take laxatives every day."
First choice: bulk-forming laxatives
Bulk-forming laxatives draw water into stool, making it softer and easier to pass. But don't expect instant gratification: these can take a half-day to several days to provide relief. They are safe to use daily. They contain various ingredients, and you may have to try more than one to find the product that helps you with minimal side effects, such as flatulence and bloating. They may be marketed as laxatives or as fiber supplements.
To continue reading this article, you must
login
.
Subscribe to Harvard Health Online for immediate access to health news and information from Harvard Medical School.