Men's Health
Worry and anxiety linked to higher heart risk in men
Research we're watching
Middle-aged men who often feel worried or anxious may be more prone to problems that raise heart disease risk as they age compared with their less-worried peers, a new study finds.
Begun in 1975, the study included 1,561 men without heart disease whose average age was 53. All the men completed tests to assess their levels of worry and neuroticism, a personality trait associated with feelings of fear, sadness, and anger. Every three to five years, researchers collected data to assess the men's risk of cardiometabolic disease (which includes heart disease, stroke, and type 2 diabetes) until the men died or dropped out. The measurements included blood pressure, cholesterol, triglycerides, blood sugar, body mass index, and a blood marker of inflammation.
Over an average follow-up of nearly 23 years, researchers found that having higher levels of worry or neuroticism was linked to a 10% to 13% higher risk of having six or more risk factors for heart disease, stroke, or type 2 diabetes. The study was published in the February 2022 issue of the Journal of the American Heart Association.
Image: © Mironov Konstantin/Getty Images
Disclaimer:
As a service to our readers, Harvard Health Publishing provides access to our library of archived content. Please note the date of last review or update on all articles.
No content on this site, regardless of date, should ever be used as a substitute for direct medical advice from your doctor or other qualified clinician.
You might also be interested in…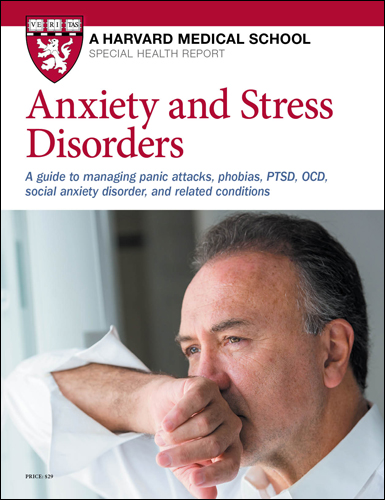 Anxiety and Stress Disorders
Everyone worries or gets scared sometimes. But if you feel extremely worried or afraid much of the time, or if you repeatedly feel panicky, you may have an anxiety disorder. Anxiety disorders are among the most common mental illnesses, affecting roughly 40 million American adults each year. This Special Health Report, Anxiety and Stress Disorders, discusses the latest and most effective treatment approaches, including cognitive behavioral therapies, psychotherapy, and medications. A special section delves into alternative treatments for anxiety, such as relaxation techniques, mindfulness meditation, and biofeedback.
Read More
Free Healthbeat Signup
Get the latest in health news delivered to your inbox!