How serious is bundle branch block?
Ask the doctor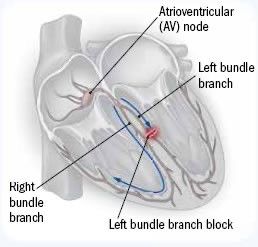 Q. A recent electrocardiogram showed that I have a right bundle branch block. My doctor says it's fairly common and nothing to worry about, but I'm a bit concerned. What is it, exactly? And what specifically can cause this problem?
A. Bundle branch block refers to a small glitch in the heart's electrical conduction system. The term "bundle" refers to a collection of nerve fibers that receive the "contract now" signal from the atrioventricular node and relay it to the ventricles, the heart's lower chambers (see illustration).
To continue reading this article, you must
log in
.
Subscribe to Harvard Health Online for immediate access to health news and information from Harvard Medical School.