Diseases & Conditions
What could be causing my hand to shake?

Ask the doctors
Q. I've noticed that my dominant hand is starting to shake occasionally when I'm doing things like writing or drinking tea. It stops when I'm not moving. What could be causing this problem?
A. While only your doctor can diagnose your problem, you could be experiencing symptoms of a common disorder known as essential tremor, which causes an involuntary trembling or shaking. It can vary in intensity and affect different parts of the body, most commonly the hands, head, or voice. It typically begins in middle age, and it affects about 5% of people over age 50. Essential tremor is often inherited; people with the condition may have a parent who had it too. While tremors are also associated with Parkinson's disease, essential tremor is a completely different condition. In people with Parkinson's, which is caused by the progressive destruction of dopamine-producing brain cells that help to control movement, shaking most often occurs at rest. It most often improves when you do an activity, such as holding your tea cup. Essential tremor is the opposite: tremors are more common during activity and stop at rest. If your doctor suspects essential tremor, she will likely want to rule out other potential causes of your shaking, such as medications, excess caffeine intake, muscle fatigue, stress, or certain medical conditions, such as hyperthyroidism.
There's no cure for essential tremor, but your doctor may suggest medication, such as propranolol (Inderal) or primidone (Mysoline). In addition, finding alternatives to activities that trigger tremors can make symptoms more manageable. For example, you might use a debit card instead of writing a check, or use voice recordings instead of written notes.
— Toni Golen, M.D., and Hope Ricciotti, M.D.
Editors in Chief, Harvard Women's Health Watch
Image: sasirin pamai/Getty Images
Disclaimer:
As a service to our readers, Harvard Health Publishing provides access to our library of archived content. Please note the date of last review or update on all articles. No content on this site, regardless of date, should ever be used as a substitute for direct medical advice from your doctor or other qualified clinician.
You might also be interested in…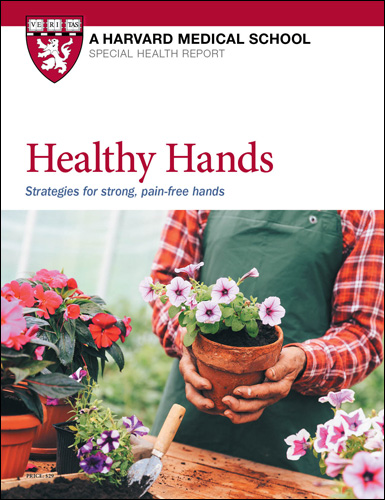 Healthy Hands: Strategies for strong, pain-free hands
Beneath the skin, your hands are an intricate architecture of tendons, joints, ligaments, nerves, and bones. Each of these structures is vulnerable to damage from illness or injury. If your hands hurt, even simple tasks can become a painful ordeal. Healthy Hands: Strategies for strong, pain-free hands describes the causes and treatments for many conditions that can cause hand pain. It also features information on hand exercises, as well as handy tools and other gadgets that take strain off your hands.
Read More