Harvard Health Blog
Quitting smoking during the second half of the menstrual cycle may help women kick the habit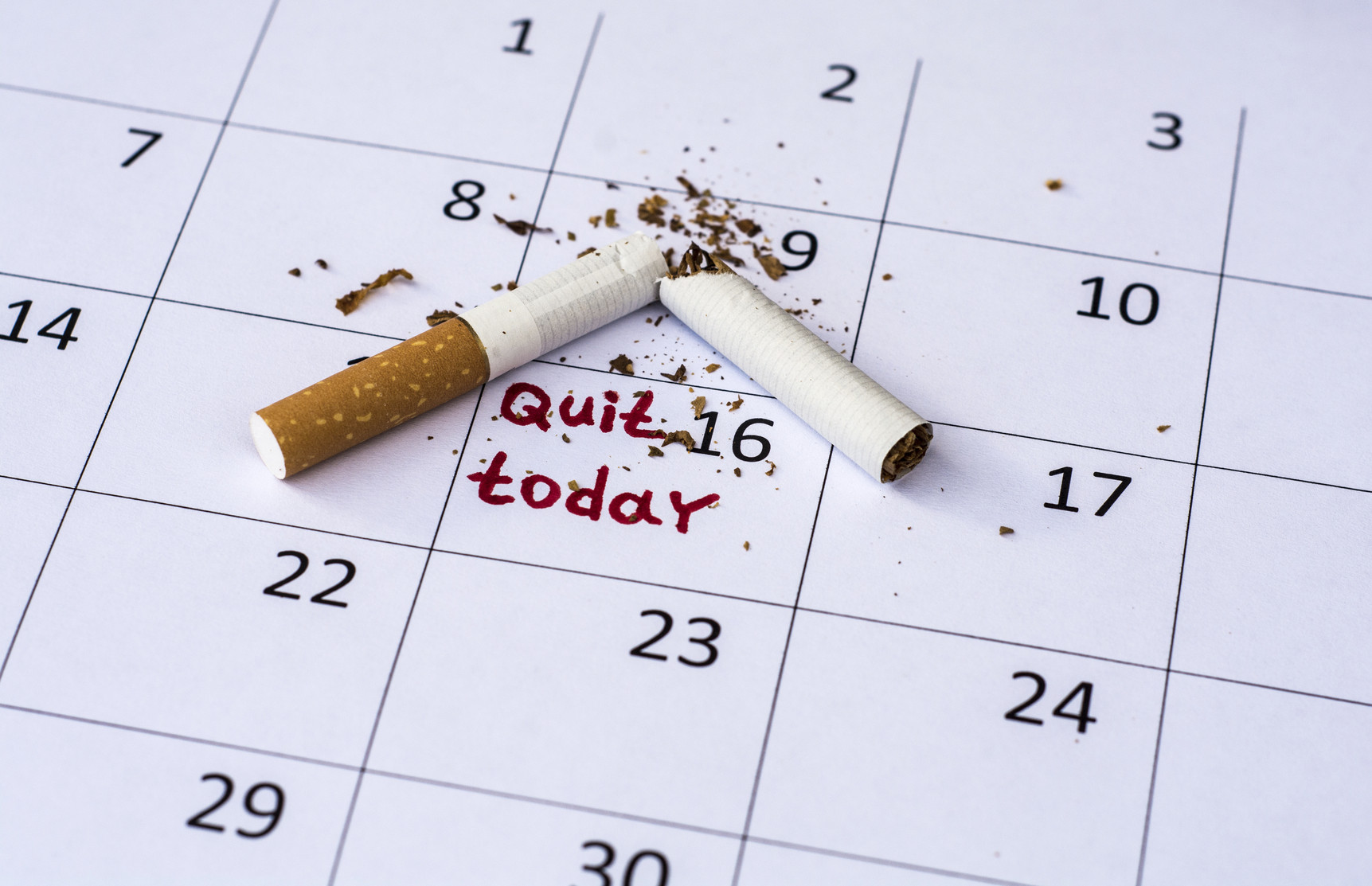 Follow me on twitter @hricciot
Nearly every woman will acknowledge that her menstrual cycle affects her mood and behavior. An estimated 85% of women experience premenstrual syndrome one to two weeks before her period, which may include moodiness, anxiety, irritability, or food cravings along with physical symptoms such as bloating and breast tenderness. Studies suggest that women are more likely to engage in addictive behaviors, such as cigarette smoking, in the first half of the menstrual cycle, that is the time between the start of your period and ovulation. The underlying reason is thought to be that the hormone estradiol (a form of estrogen) is higher in the first half of the menstrual cycle, and it promotes addictive behaviors such as smoking and relapse from quitting. In the second half of the menstrual cycle, the hormone progesterone is higher, and this protects against smoking and relapse.
Researchers at the Perelman School of Medicine at the University of Pennsylvania studied a group of women who wanted to quit smoking. They used a special type of MRI, called functional MRI (fMRI) to follow the activity in the parts of the brain that help control addictive behavior and tracked this activity throughout the course of the menstrual cycle. They found that in the first half of the menstrual cycle (the follicular phase, as the egg matures but before ovulation) there was less activity in brain regions that helps make good decisions and in the reward center. Conversely, these same regions of the brain were more active during the second half of the menstrual cycle. This finding suggests that women who smoke may be more successful at quitting if they set a quit date during the second half of their menstrual cycle when brain activity is more likely to support greater control over smoking-related urges and behaviors.
Smoking is the leading cause of preventable deaths in the United States. Women experience more severe health consequences from cigarette smoking compared to men – and find it harder to quit. If you are a woman and a smoker, work with your doctor to set a quit date, and discuss whether nicotine replacement, or medications that act on your brain to reduce nicotine cravings (varenicline (Chantix), bupropion (Wellbutrin) may help you with nicotine withdrawal and kick the habit (they double your chances of quitting). Be sure to have support to help you (hotlines, internet chats, smart phone apps, friend, nurse, doctor, or therapist) and a follow-up plan in place to check in, as all of these have been shown to help people stop smoking for for good.
About the Author
Hope Ricciotti, MD, Editor in Chief, Harvard Women's Health Watch
Hope A. Ricciotti, MD, is Editor in Chief of the Harvard Women's Health Watch. She is an Associate Professor of Obstetrics, Gynecology, and Reproductive Biology at Harvard Medical School and leads the Department of Obstetrics, Gynecology, …
See Full Bio
View all posts by Hope Ricciotti, MD
Disclaimer:
As a service to our readers, Harvard Health Publishing provides access to our library of archived content. Please note the date of last review or update on all articles.
No content on this site, regardless of date, should ever be used as a substitute for direct medical advice from your doctor or other qualified clinician.
Comments
Hi once again!… Dr. Hope Ricciotti…
.
In keeping with the UNDERLYING THEME of my previous comment, I thought it helpful to offer up the views expressed within the Google result, The Trend Of Killing News Comment Sections Because You 'Just Really Value Conversation' Stupidly Continues… and my subsequent response to same!… and, as follows…
.
To what extent does Digital Human Rights "factor in" to a site's creation of a site's Forum Comments Window? And for example, should a site (any site!) possess the power to arbitrarily remove a netizen's comment log (a.k.a., clog!)!… like those found within people.com (and however extreme!)!… or, should site owners be "obliged" to adhere to a global, "professionally mandated" "Digital Human Rights Protocol (e.g., mandating the inclusion of an embedded 'Digital Human Rights Software Package'!)", when setting up a site Clog Window within one's site (like mandating airbags, and seatbelts for cars!)!?
.
However one might view the extreme nature of the clogs being offered up at a people.com, the reality is, this is where our respective comment loggers are at! And to arbitrarily deny their expressions!… and however distasteful (yea, pathic!) these expressions may seem!… would be like a doctor refusing to acknowledge an expression of disease within a patient!
.
It is my position, that, ALL SEARCH RESULTS (regardless of the Search Engine being used!) SHOULD BE MANDATED TO BE W-E-I-G-H-T-E-D I-N-F-A-V-O-R-O-F R-E-S-U-L-T-S T-H-A-T A-L-L-O-W F-O-R P-U-B-L-I-C C-O-M-M-E-N-T-A-R-Y (and thus, compelling website owners to include a Clog Window within respective sites, in order for a website to be given "preferential ranking" within a Search Engine!… S-E-A-R-C-H E-N-G-I-N-E O-P-T-I-M-I-Z-A-T-I-O-N B-E D-_-M-N-E-D!!)! And also, we should eliminate the current practice of Search Engines, and/ or "CERTAIN" third-party "ELITE INTERESTS" from individually, or jointly "manipulating" "politically charged"/ "socially charged" commentary AWAY from "top billing (e.g., through 'Search Engine Optimization'/ SEO algorithms!… and/ or, through other 'Anti Search Neutrality' and/ or 'Anti Net Neutrality' algorithms!)"! And!… simply because!… Search Engines, and/ or "CERTAIN" third-party "ELITE INTERESTS" feel, that "SUCH INTERESTS" are directly and/ or indirectly "adversely" politically/ socially impacted (by commission, and/ or omission!… directly and/ or indirectly evidenced!) by the otherwise "SEARCH ENGINE/ THIRD-PARTY ELITE INTEREST PERMITTED" "positional ranking" of such politically/ socially charged commentary! And thusly!… no "NEUTRAL SITE (i.e., a website having NO Comment Logging Window!)" should be allowed at the top of Search Engine search results rankings (E.G., CORPORATE MEDIA OUTLETS!)! UNLESS!… no comments have been MANIFESTLY PROVEN to have been made within the total number of the (then) "comments facilitating sites" listed within a given Search Engine's search results (respective of a given search expression used!)!… OR!… the site does not lend itself to Public Commentary (i.e., the inherent nature of the website "LOGICALLY PRECLUDES" facilitating public discussion!)! This!… then!… will mean, that FREE DEMOCRATIC EXPRESSION will "hold sway" over any and all other "RANKING CONSIDERATIONS", re the top ranking of Search Engine search results (AGAIN!… SEARCH ENGINE OPTIMIZATION MANIPULATION BE D_MNED!!)!
.
The next step, would be to address the Digital Human Rights violations inhere within the very design (or failed design!) of respective site Comment log/ Clog Windows (E.G., DENYING NETIZENS THE R-I-G-H-T TO COPY AND PASTE, AND TO L-I-N-K!… AGAIN, SEARCH ENGINE OPTIMIZATION MANIPULATION NEEDS BE D_MNED!)!… and, in addition to putting a stop to IP address theft, and manipulation (such as website and/ or Blog
Hosting "Blacklisting/ Blacklists"!… and, by site-embedded groups such as Spamhaus, Honeypot, and Stopforumspam!… and etc.!)!
.
Please!… no emails!
Hi!… Dr Hope Ricciotti!:…

Dr. Ricciotti!… I have an ulterior motive for texting you today, re your article, Quitting smoking during the second half of the menstrual cycle may help women kick the habit! And I will say at the outset, that it's not important that the Posting that you're about to read, be kept for your general viewership! Nevertheless!… your general viewership, may also find that what I'm about to offer is not only of interest to your viewership, but– as well!– may be uniquely beneficial in pursuing, beyond mere personal viewership interest! Further!… although what I'm about to offer up may appear– on the surface!– somewhat estranged from your average Posting, I do seriously suggest, that such, will be both informative, and useful on a number of different levels! So!… please!… bare with me!
.
Dr Ricciotti!… you– no doubt!– have heard of a young actress, named Lindsay Lohan! And without getting into some treatment on her life and times!… beyond that which you may already be familiar!… I would like you to explore a current bit of "social dialogue" going on this very moment (this Thursday, July 28, 2016) on a popular "social media website", named people.com! In particular, I would like to bring your attention to the Google result, Lindsay Lohan Steps Out in a Bikini Amid Pregnancy Rumors!
.
The denoted title notwithstanding, Dr. Ricciotti, the article within the site explores the suggestion by sundry, that a pregnant Lindsay Lohan is DARING to smoke, while carrying a child! Well!… this would not necessarily have sparked some concerted interest within me, save for the fact, that over 300 responses have already come in, within the period of just two hours! But!… more notable than the
amount of responses which have flooded in, is the bizarre extremes in commentary, that I felt– and do fell!– worthy of exploration!
.
Now… although I have added to this commentary within the site, I am not anxious to bring specific attention to my commentary, in particular!… as such– I suggest!– is incidental to my concerns here! And these are: 1) a need to provide a highly professional response to the musings found on a theme (that you, Dr Ricciotti, have explored here at harvard.edu), on a popular "social media" site; 2) a need to challenge the efficacy of this extreme commentary evident within the site; and 3) a need to provide the type of expertise you have provided us at harvard.edu, on a site that would not normally entertain such "learned sophitication"!
.
The reasoning is simple!… Dr Ricciotti!… people.com (and other such sites!) are "socially popular", and do entertain the same subjects as you, and yours, have pursued here!… however!… a people.com, is– as you will note!– a "world away (yea, a 'universe away'!)" from the type of RATIONAL DISCOURSE that a harvard.edu would normally entreat (exceptions, notwithstanding!)! Nonetheless!… unless a BRIDGE is made between the sophistication of a harvard.edu and a people.com (and on a topic such as both hardvard.edu and people.com have just recently accommodated!), a people.com may– forever!– be caught within it's systemic "MYOPIC EVENT HORIZON"! In other words, Dr. Ricciotti, people.com (and yea, other such sites!) wil forever "miss out" on what PROFESSIONAL COMMENTARY is all about! And so!… PROFESSIONAL COMMENT LOGGERS, AND LOGGING is/ are required, to "stir the social comment pot"!
.
To close… it's perfectly fine for a harvard.edu and a people.com to "do one's own thing"! But!… without the active participation (at least, from time to time!) of professional bodies, such as hardvard.edu, to PROACTIVELY PARTICIPATE in "common social media forums" on subjects of "mutual interest (the handling of such subjects by non-professional bodies, notwithstanding!)", a hardvard.edu will never learn of the DYSFUNCTION of the "social dialogue", and a people.com will never learn of the FUNCTIONALITY of the "professional dialogue"! And to be perfectly clear here!… Dr. Ricciotti!… I'm NOT speaking to the need for Professional Bloggers to be had within non-professional blogging sites such as people.com (although, such would always be of benefit!); but rather, to the need for PROFESSIONAL COMMENT LOGGERS, AND LOGGING!
.
In other words, I'm wanting Professional bodies such as harvard.edu to DARE GO where no Professional body has gone before!… i.e., into the MAYHEM, which is "social media comment logging"! And because, THIS IS WHERE THE "PEOPLE ACTION" IS (no pun, intended!)! This is where the SOCIAL RUBBER HITS THE ROAD!… and where notions and MEMES (both good and bad!) get formed!… and passed around, AS GOSPEL TRUTH! THIS IS WHERE THE PATHY GETS PLAYED OUT!… OR WHERE THE HEALING IS COMMUNICATED!… U-P C-L-O-S-E A-N-D P-E-R-S-O-N-A-L!
.
Blogs by Professionals are fine (i.e., the articles to which Commenters comment!)!… BUT!… IT'S IN THE "TRENCHES (i.e., the websites wherein Comment Logs are to be found, and wherein "Footsoldiers Comments" are had, re Blogs!)" OF PUBLIC COMMENTARY THAT THE BATTLE/ S FOR HUMAN SOULS/ MINDS IS/ ARE FOUGHT! And if a PROFESSIONAL GENERAL (i.e., PROFESSIONAL COMMENT LOGGER!) dare not condescend to the trenches of the "rank and file "Common Footsoldier ('conscionable common commenter!)"!… then there is no true way for the Common Footsoldier to have faith in a leadership, that is so removed from the HEAT OF BATTLE!
.
Before parting… the trenches will indeed be "sweaty (YEA, WILL STINK!)"!… but!… the battle/ battles is/ are worthy!… IF THE WAR IS TO BE WON (i.e., if minds and hearts are to be salvaged!)! So… as a warning to you– and yours!… hold your nose while visiting the trenches (viewing the comment logs!), and watch your EMOTIONAL STEP! Some Footsoldiers could care less where, and how these place things!… and indeed, there are ENEMIES amongst the ALLIES! But!… after your VISIT!… you, and yours, will be able to (upon your return to "HEADQUARTERS"!), make RECOMMENDATIONS for the future design of the trenches (to bar entry to PROVEN enemies, and strengthen the efforts, of "Loyal Footsoldiers"!… INDEED, TO LEARN WHO AND WHAT IS TO BE CLASSIFIED AS AN 'ENEMY', AND CLASSIFIED AS AN ALLIE!)! The one central and vital question to be asked… Dr. Ricciotti!… is whether the "trenches" are OURS to claim, or whether such can be– SHOULD BE!– claimed by anyone who merely wants a trench (i.e., with regard to effecting, COMMENT LOGGING BATTLES!… AND COMMENT LOGGING WARFARE!)! ENJOY!
.
Please!… no emails!
Commenting has been closed for this post.
Free Healthbeat Signup
Get the latest in health news delivered to your inbox!