Women's Health
More intensive treatment of DCIS reduces the risk of invasive breast cancer
Breast cancer screening with mammography or other tools (such as MRI) has increased the rates of diagnosis of very early breast cancers knowns as DCIS (ductal carcinoma in situ). As opposed to invasive breast cancers, DCIS cancers are confined to the local area and have not spread to deeper tissues or elsewhere in the body. With increased rates of diagnosis, there has been considerable controversy about the true risks of DCIS and the best treatments, with some suggesting that women are being overtreated for a condition that does not substantially increase the long-term risk of death, and others advocating more intensive preventive treatment among women with DCIS.
Long-term outcomes for women with and without DCIS have been limited, until now
A recent study published in The BMJ offers the best data so far on the risks associated with DCIS and the impact of different treatments. In the study, more than 35,000 women diagnosed with DCIS via mammography were followed for up to 20 years to see if they developed invasive breast cancer or died of breast cancer.
Overall, the researchers found that having DCIS more than doubled the risk of developing invasive breast cancer and increased the risk of dying of breast cancer by 70%, compared with the general population. Moreover, the researchers observed that more intensive treatment of DCIS was associated with lower risk of invasive breast cancer. Compared to women who had both breast-conserving surgery (lumpectomy) and radiation therapy, those who had lumpectomy alone had 43% higher rates of breast cancer, and those who had mastectomy had 45% lower rates of breast cancer. A larger DCIS-free margin in the biopsy sample was also associated with lower rates of developing invasive breast cancer. For women with estrogen receptor-positive DCIS, hormone treatment to reduce estrogen levels was associated with lower risk of invasive breast cancer.
The findings from this new study are broadly similar to a US study of more than 100,000 women with DCIS that found an 80% higher risk of dying of breast cancer in women with DCIS than in the general population, although that study couldn't determine how the DCIS was diagnosed. A Danish study also found that women with DCIS who were treated with mastectomy had lower rates of invasive breast cancer in that breast than those treated with more conservative surgery, with or without radiation therapy.
What does the new research mean for a woman who is diagnosed with DCIS?
This study showed that increased cancer risk persisted for more than 15 years after a diagnosis of DCIS, and that more intensive therapy than lumpectomy alone — whether with mastectomy, radiation therapy, or endocrine therapy — reduced the risk of invasive breast cancer among women with DCIS. The lowest risk of invasive breast cancer was in women who chose mastectomy.
The risk of invasive breast cancer was seen regardless of severity of DCIS. Women who had low- or moderate-grade DCIS, as well as high-grade DCIS, had long-term increased risk.
Women who are recently diagnosed with DCIS should work with their treatment team to weigh the best individual treatment strategies based on their preferences and other health conditions. This new research validates the need to consider the long-term consequences of DCIS when making treatment decisions, and it may prompt doctors and patients to consider more intensive treatments to reduce later risk of invasive breast cancer and risk of dying of breast cancer. While no details on surveillance strategies, such as regular mammograms or other exams, were presented in this study, based on these results, patients with DCIS should continue active surveillance for breast cancer for decades after their diagnosis.
About the Author
Kathryn Rexrode, MD, MPH, Contributor
Dr. Kathryn Rexrode is the Chief of the Division of Women's Health in the Department of Medicine at Brigham and Women's Hospital (BWH) and an Associate Professor of Medicine at Harvard Medical School. Dr. Rexrode has …
See Full Bio
View all posts by Kathryn Rexrode, MD, MPH
Disclaimer:
As a service to our readers, Harvard Health Publishing provides access to our library of archived content. Please note the date of last review or update on all articles.
No content on this site, regardless of date, should ever be used as a substitute for direct medical advice from your doctor or other qualified clinician.
You might also be interested in…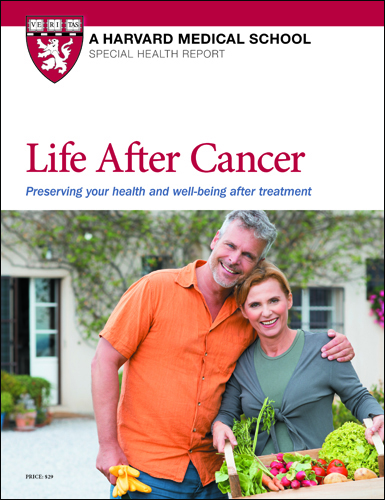 Life After Cancer
This Special Health Report is designed to guide you through the next stage of your cancer journey. It will walk you through many of the issues you'll face in the upcoming months and years—the long-term and late effects of your cancer and treatment; the potential for a recurrence or new cancer; the emotional, occupational, and financial issues you'll potentially face; and the implications for your family and friends. You'll learn how to readjust to the life you may have put on hold during your treatment, transitioning back to your full work and home life. And you'll learn ways to maintain your health to prevent new problems, including cancer, from taking hold again.
Read More
Free Healthbeat Signup
Get the latest in health news delivered to your inbox!