By

Katherine D. McManus, MS, RD, LDN, Contributor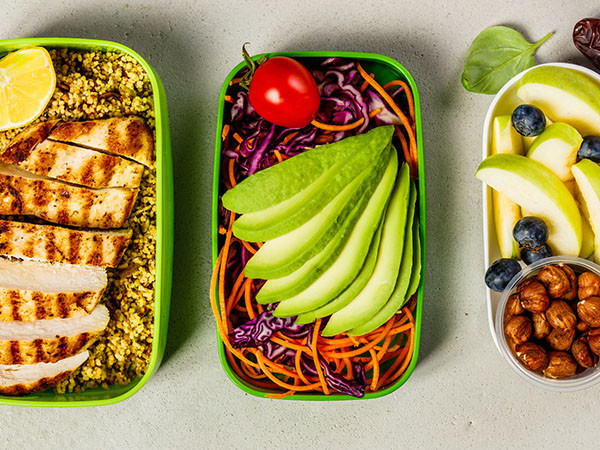 Healthy meals don't just happen — you need to make them happen. Here are three easy steps to get you on your way.
Step 1: Make a plan
The first step is to plan your menu for the week. It doesn't need to be elaborate, just jot down what you and your family would like to eat.
Then think about ways to make your choices healthier. Substitute chicken breast for steak and add more vegetables, for example. Can you streamline your cooking? Consider cooking a large batch of grains on the weekend and using them in more than one meal.
Step 2: Shop smart
You've already planned your menu. Once you make your shopping list, you're on your way to choosing healthy foods. Sticking to your list will also save you time and money.
When you arrive at the supermarket, start shopping the perimeter of the store, which is where you'll find fruits and vegetables, low-fat or non-fat milk, cheese, and yogurt, whole-grain breads, and fish, poultry, and lean cuts of meat. Use your shopping list to selectively navigate the rest of the aisles.
In addition to the items you need for your weekly menu, stocking your kitchen with the following key items will ensure that you have everything on hand to whip up fresh, nutritious, flavorful, and healthy meals.
For your fridge: fruits, vegetables, dark leafy greens, low-fat cheese, fresh salsa, plain yogurt, eggs, chicken, low-fat milk, pesto, light mayonnaise, hummus, lemons.
For your freezer: a variety of frozen vegetables (without sauce), poultry, fish, berries, whole-grain frozen waffles.
For your cupboard: brown rice, quinoa, oatmeal, whole-grain cereal, whole-grain tortillas, whole-wheat pasta, whole-grain bread, nuts and seeds, peanut butter, onions, sweet potatoes, garlic, canned beans (low sodium), sardines, tuna, salmon, low-sodium soup, canned tomatoes, low-sodium chicken and vegetable broth, tomato paste, olive oil, balsamic vinegar, mustard, herbs and spices.
Step 3: Put your plan into action
Now that you have a plan and the food you purchased readily available, it's time to make it happen.
Breakfast
Eating breakfast can improve energy, mood, and performance at school or work. To create a well-balanced breakfast, include whole-grain carbohydrates, lean protein, and fruit. If you're not a "breakfast person," try starting with something small.
Oatmeal with a small handful of nuts, cinnamon, and berries
100% whole-wheat bread, peanut butter, and a banana
Breakfast sandwich: 100% whole-wheat English muffin, scrambled egg and low-fat cheese, with an orange
Whole-grain crackers, low-fat cheese, and an apple.
Lunch
Lunch can be the hardest meal. It's the busiest time of the day and it can be tempting to grab something fast and not-so-healthy. Packing a balanced lunch is not only important for health, but will also help you stay full and focused longer. A balanced lunch contains equal parts of lean protein, healthy carbohydrates, and vegetables.
Homemade soup, such as minestrone, chicken vegetable, or lentil soup, with whole-wheat crackers
Chili made with lots of vegetables and ground turkey
Whole-wheat pasta salad with vegetables and chicken or tuna fish
Whole-wheat English muffin pizza with vegetables and a small amount of low-fat cheese
Vegetable quesadilla with whole-wheat tortilla, part skim mozzarella cheese, and vegetables
Chicken or tuna sandwich on whole-grain bread with a side salad.
Dinner
Time can limit what gets to the dinner table. You might think it is faster to call for takeout or go to a nearby restaurant. The reality is that if you've planned and shopped wisely, it could be faster, healthier, and less expensive to prepare dinner at home. These dinner ideas can be ready in less than 20 minutes.
Defrost shrimp, stir-fry with some vegetables, and serve over whole-wheat pasta.
Grill fish or chicken breast, microwave a sweet potato, and add a salad.
Pan-fry chicken in olive oil, then add a few vegetables such as onions, garlic, and mushrooms. Make a quick batch of a whole grain (quinoa, farro), or reheat grains that you made on the weekend.
Put vegetables such as carrots, broccoli, onions, and cauliflower in a crockpot with chicken or beans, and chunks of winter squash or sweet potato. Set the timer before you leave for work.
Sauté fresh or frozen vegetables with tofu or another healthy protein, flavor with your favorite low-sodium sauce, and serve with Instant brown rice.
Meal planning can be a challenge. But with a plan, a well-stocked kitchen, and a little time, healthy meals can be the norm rather than the exception.
About the Author
Katherine D. McManus, MS, RD, LDN, Contributor
Kathy McManus is Director of the Department of Nutrition and Director of the Dietetic Internship at the Brigham and Women's Hospital, a teaching affiliate of Harvard Medical School in Boston. In addition, she serves as the …
See Full Bio
View all posts by Katherine D. McManus, MS, RD, LDN
Disclaimer:
As a service to our readers, Harvard Health Publishing provides access to our library of archived content. Please note the date of last review or update on all articles.
No content on this site, regardless of date, should ever be used as a substitute for direct medical advice from your doctor or other qualified clinician.