Harvard Health Blog
Health care largely ignored in State of the Union address
Published: January 25, 2012
As I listened to the State of the Union address last night, the health journalist part of my brain was hoping for news about health and health care reform. It was sorely disappointed.
Thanks to word counter Dan Diamond, managing editor for the Advisory Board's Daily Briefing, I learned that President Obama spent just 44 words on health reform last night. That's far fewer than he's used in the past (see illustration below)
That health care reform was neglected shouldn't have come as a surprise. Once a hot-button issue, health care reform has given way in this election year to jobs and the economy. As Sarah Kliff wrote in the Washington Post's "Wonkblog," the President wouldn't have gained much political ground talking about the Affordable Care Act, since "health reform law doesn't move voters."
Although health care reform may not be a hot issue right now, it is still something that affects us all. What would you have wanted President Obama to have said about it in the State of the Union address?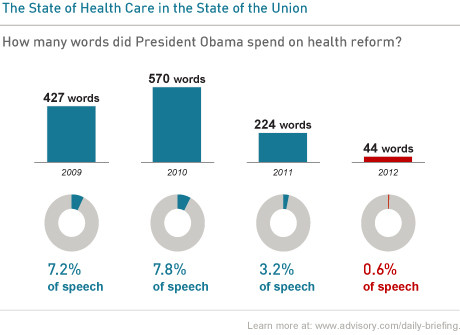 Disclaimer:
As a service to our readers, Harvard Health Publishing provides access to our library of archived content. Please note the date of last review or update on all articles. No content on this site, regardless of date, should ever be used as a substitute for direct medical advice from your doctor or other qualified clinician.
Comments
Guillermo
February 22, 2012
sometimes tikang any sort of step is the right step. if you keep doing the same thing nothing changes. so good for you. not an easy thing to do. take care
Commenting has been closed for this post.
You might also be interested in…
Harvard Health Letter
Want to reduce pain in your knees and be more active? Eat smarter and reduce your risk for a heart attack? Improve your flexibility and balance so you don't fall? Sleep the entire night so you have more energy during the day? Take control of your health right now! In Harvard Health Letter, you'll find easy remedies and solutions to these common challenges and more.
Read More