Harvard Health Blog
Good planning is a recipe for home-cooking success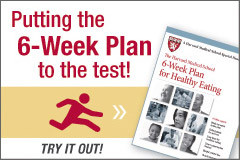 "Does anybody cook anymore?" my friend asked recently. It's a good question. It's so easy to pick up fast food or take out food that no one really needs to cook anymore. That's great if you're short on time, but not so great if your goal is healthy eating.
The downside of ready-made food is that it usually has an excess of salt, sugar, and calories. When you cook your own meals, on the other hand, you control the ingredients. You decide how much salt goes in the soup, butter on the vegetables, and sugar in the oatmeal.
But home cooking requires some planning, and that's a stumbling block for many people. To make it easier, nutrition experts at Harvard Medical School have created a new Special Health Report, The Harvard Medical School 6-Week Plan for Healthy Eating.
In this report, nutrition editor Teresa Fung shares her passion for controlling her own diet by making meal-planning a habit. "I know many busy people with jobs and families who find the time once a week to plan some meals and make a shopping list. It's easy if you get in the habit," says Fung.
As you begin to shift toward preparing some of your meals at home, keep these tips in mind:
Set reasonable goals. If you currently eat take-out food on most days, start by planning a home cooked meal twice a week. That's a manageable plan.
Pack in the fruits and vegetables. Look for recipes that include lots of vegetables. Minestrone soup, pasta primavera, and stir-fry shrimp or chicken with vegetables are good examples.
Get a system down. Once a week, on the same day, plan your menus and make a list of the foods you'll need for your meals. Go shopping on the same day each week and set aside a regular day or two to cook. Sticking with this simple routine makes it less likely that you'll get caught with no food at home and end up at the fast-food counter.
Check back each Wednesday for the next six seeks as two people who are following the 6-Week Plan for Healthy Eating blog about their experiences. You can do the 6-Week Plan too, by ordering the Special Health Report online or in print.
Disclaimer:
As a service to our readers, Harvard Health Publishing provides access to our library of archived content. Please note the date of last review or update on all articles. No content on this site, regardless of date, should ever be used as a substitute for direct medical advice from your doctor or other qualified clinician.
Comments
Step2 Lifestyle Kitchen
February 11, 2012
Thank You very much for an amazing article about Good planning. This article has inspired me in trying some of the techniques here and teaching my children to mimic me with their Step2 Lifestyle Kitchen. I still love to cook my own meals even though I am still single and this article came very handy for me to know I am not the only one that is not into fast food.
Thank you for the good article i ever read, i'm awaiting for the next article..
I have been on a paleo diet for the past year and I am amazed at the results. Dropping grains, especially whole grains, legumes, processed food, salt, sugar, processed industrial vegetable oils (like canola, corn, etc) and focusing on healthy fats like eggs, cold pressed olive and coconut oil, deep sea fish and seafood, grassfed beef, liver, bone marrow soup, vegetables especially green juices, and limited fruits is a great healthy diet. My triglycerides have dropped from 240 to 85, blood glucose from 105 to 85, VLDL levels from 50 to 15 and improvements in LDL and HDL levels to the best in my life. I also lost wrinkles and had a dramatic improvement in the condition of my skin. I shed 20 lbs and have turned the clock back 20 years obtaining my 20 something 32″ waist line (I am now almost 50). Definitely recommend it!
Raden Eko
December 30, 2011
Thank you for the good article i ever read, i'm awaiting for the next article..
A very worthwhile and well thought out post. I have found that using a slow cooker is also a great way to insure one eats more home cooked meals. With just a little preparation in the morning you can come home to the most wonderful fragrances wafting through your home. When you follow your nose to the kitchen and open the lid – Wow, simply heavenly. Saves a lot on electricity too.

Great post Kay.
sledge200
November 25, 2011
If your goal is to have a healthy eating plan… it takes some work, discipline and determination.
stevenreynolds20
November 23, 2011
Dorian Baldomero
October 16, 2011
I acquired more a new challenge on this losing weight issue. One particular issue is a good nutrition is very vital if dieting. A big reduction in bad foods, sugary food, fried foods, sugary foods, pork, and whitened flour products can be necessary. Holding wastes organisms, and contaminants may prevent targets for losing weight. While a number of drugs temporarily solve the issue, the nasty side effects aren't worth it, and they never present more than a temporary solution. It's a known idea that 95% of celebrity diets fail. Many thanks for sharing your opinions on this site.
ron douglas
September 4, 2011
You are right.
Take away meals, ready meals and restaurant meals do contain more salt.
However you can still enjoy your favourite restaurant meals that you can prepare at home and add less salt.
like you say, you can control what you add in.
[URL removed by moderator]
nikki young
September 4, 2011
An interesting diet is paleo.
Eating the supposed diet that our caveman ancestors
ate is both nutricious and healthy.
A hunter gatherer diet is more suited to our nutritional needs !
[URL removed by moderator]
ron douglas
September 4, 2011
We live in a culture where ready meals and take aways have become the norm.
Eating healthily is hard work but we need to get into good habits.
I like the idea of starting slowly and gradually cooking more meals .
I suppose then a take way meal will be a treat from cooking.
I'll take your good advice, beacause my health is worth it
I think it's important to shift the eating out mentality toward eating healthier at home. We are such a fast food generation wanting everything immediate. Hope this will change.
jeana baciu
August 22, 2011
Healthy food is always a better option.
DBredenkamp
August 16, 2011
I would have liked to see a comment about the amount of carbohydrates contained in our diet and ways of reducing it. Carbs are basically seen as sugar by the body, and as such we consume far too much of the stuff. You did mention loading up on fruit and vegetables (good for you!), so you are aware of the problem, but we have to drive a shift from carbs as staple to a healthier meat, fruit and vegetable diet if we are ever going to get this supplied in sufficient quantity and quality. Just walk through the supermarket and see how much you would be left with if you excluded anything overly processed (soya, margarine, hydrogenated vegetables, anything with preservatives, etc.) and all carbs.
Thanks for being on point and on tgaert!
indonesian food recipes
July 16, 2011
Aw, this was a really great post. In theory I'd like to write like this also – taking time and real effort to make a good article… but what can I say… I procrastinate alot and never seem to get something done.
[URL removed by moderator]
We should all eat the right amount and the right kinds of food.
Exchange 'Fruit and Vegetables' for 'Learning and Growing' and this is not just a guide to healthy eating, but a guide to every single aspect of a healthy and happy life.

That's what I took from this post, and definitely why I enjoyed it so much.
Thanks for sharing Kay.
Chris@Sous Vide Machines
May 26, 2011
I am actually fairly new to home cooked meals. Ever since I started working, I always ate out. the only food I had at home was instant, microwavable stuff. Then, just this year, I discovered the joys of cooking. Not only am I eating healthier, but I noticed that I was able to save a lot of money too.
There has been much talk about fast food and how we should be eating right.

When are we going to start talking about quick fast frozen food?
Kay Cahill Allison
April 25, 2011
I sense a theme here. It's not just about knowing how to be healthy, it's about getting organized to work all the components into your life.
Brianna Olds
April 24, 2011
Thanks you for this. I hadn't considered planning materials as a good health related gift but now I know it's important thanks to you. Looking forward to more great content in the future.

Brianna Olds
David Gruttadaurio
April 24, 2011
Picking up fast food or take out food has become an epidemic and part of our cultural landscape. No one really cooks anymore. If your goal is to have a healthy eating plan… it takes some work, discipline and determination. Also, it needs to be supplemented with a fitness program of some sort.
Brett Brodie
June 7, 2011
David's comment is so true. I've lost 32 pounds by doing exactly what he said in his comment.
Brian Siewers
August 15, 2011
So true. Ever see the movie, Fast Food Nation? Or Super Size Me? Eating there occasionally is OK… but the key word is 'occasionally'!
For the past eighteen months, I have been following a greens, beans and nuts diet with almost zero sugar,dairy and fat. However, I started developing floaters in my eye sight.On other fronts of digestion, cardiac and diabetes there has been phenominal improvement and my quality of life has also imroved. I take no medicine-of any kind.I do take probiotic and yeast tablets for better digestion.
I am 70 year old.
What should I do to check the floaters in my eyes. Do inclusion of some dairy is needed to remedy the situation?
Kay Cahill Allison
May 10, 2011
I'n not aware of any evidence linking this dietary pattern to eye disorders. But eye floaters can be a symptom of serious eye disorders so it's very important to have an eye exam.
Commenting has been closed for this post.
Free Healthbeat Signup
Get the latest in health news delivered to your inbox!