Low vitamin D levels associated with dementia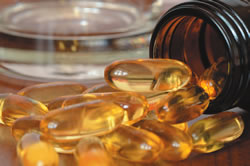 Image: Thinkstock
You can add low vitamin D levels to the list of risk factors associated with dementia and Alzheimer's disease. A study published online in Neurology on Aug. 6, 2014, found that in people ages 65 and older, low levels of vitamin D in the blood were associated with a 53% increased risk for developing dementia, and about a 70% increased risk for developing Alzheimer's disease (AD), compared with normal blood levels of vitamin D. Blood levels of vitamin D that were extremely low were associated with even higher risks: 125% for developing dementia, and 120% for developing AD. The study didn't show that low and extremely low vitamin D levels cause dementia or Alzheimer's, and it didn't show that taking vitamin D pills or increasing the amount of vitamin D in the diet would prevent dementia and Alzheimer's. But could it help? "I would be very surprised if vitamin D supplementation alone would offer protection against dementia. AD is a process 15 to 20-plus years in the making, and most if not all of the mechanisms are probably in place five or six years before a dementia diagnosis," says neurologist Dr. Scott McGinnis, a Harvard Medical School instructor. Meantime, get your Recommended Dietary Allowance of vitamin D, which you need for strong bones, immune function, and cell growth.
To continue reading this article, you must
log in
.
Subscribe to Harvard Health Online for immediate access to health news and information from Harvard Medical School.