Signaling the brain to lower blood pressure
For some people, controlling blood pressure is a matter of eating a healthier diet, exercising more, and reducing stress. Others must add one or more medications. When these standard approaches don't do the trick, a novel technique that uses a pacemaker-like device may someday help.
The Rheos system (see illustration) works on baroreceptors (patches of nerve endings that are sensitive to changes in blood pressure) located inside the carotid arteries that run up either side of the neck. The device stimulates these baroreceptors using a pacemaker-like pulse generator connected to wire leads that run to each baroreceptor.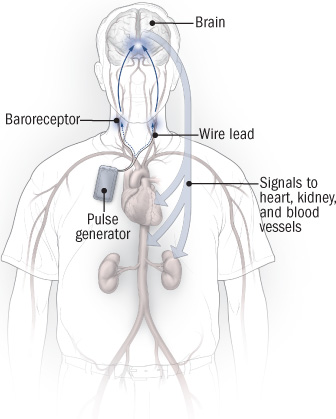 Stimulating the baroreceptors causes them to send signals to the brain. The brain interprets these signals as a rise in blood pressure. It responds by sending signals to the heart, kidneys, and blood vessels to lower blood pressure.
To continue reading this article, you must
login
.
Subscribe to Harvard Health Online for immediate access to health news and information from Harvard Medical School.