Ask the doctor: Alternative to warfarin
Q. For several years, I have been taking warfarin because of atrial fibrillation. I recently suffered several nosebleeds, which took two days to control. The trauma of those episodes makes me want to swear off warfarin, but I am not sure what other options I have.
A. People with atrial fibrillation are at risk of having a stroke because when the atria (the top two chambers of the heart) fibrillate (beat chaotically), blood collects in the heart, giving clots a chance to form. One of those clots can travel to the head, get stuck in a blood vessel there, and cause a stroke.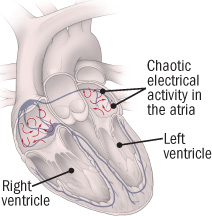 Warfarin prevents blood clots by blocking the activity of vitamin K. It's a good, time-tested drug. But warfarin is tricky to use. You've experienced firsthand the bleeding problems it can cause. Yet if you rake back the dose too far to avoid bleeding, you're back to where you started: running the risk that a blood clot may form and cause a stroke. Doctors try to steer people down the middle by monitoring them with international normalized ratio (INR) tests, which measure how fast the blood clots, but people's response to warfarin is variable, and the drug interacts with a lot of food and medications. A good alternative to warfarin has been on the wish list of many "afib" patients — and their doctors — for years.
To continue reading this article, you must
login
.
Subscribe to Harvard Health Online for immediate access to health news and information from Harvard Medical School.