Great exercise that's easier on the joints
Aquatic therapy can reduce pain and pressure while providing an effective workout.
When you're struggling with joint pain, gravity can make exercise an unpleasant experience. But exercising in water, also known as aquatic therapy, can change all that. "It enables you to do many of the same exercises you'd do on land without applying the same force on your joints," says Gayle Olson, a certified athletic trainer at the Sports Performance Center at Harvard-affiliated Massachusetts General Hospital.
Move of the month: Side Stepping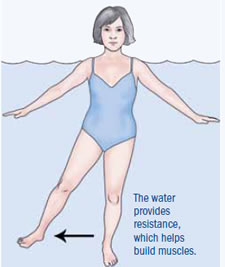 Strengthens hip and abdominal muscles.
Stand near one edge of the pool in chest deep water with your arms outstretched for balance.
Take a step sideways with your right leg, then
draw your left foot to your right so your legs are
together. Continue this side stepping to the
other edge of the pool. Then side step back to
your starting place, leading with your left leg.

Illustration: Alayna Paquette
To continue reading this article, you must
login
.
Subscribe to Harvard Health Online for immediate access to health news and information from Harvard Medical School.