Injections don't improve physical therapy for knees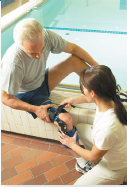 Physical therapy is helpful for wear-and-tear knee osteoarthritis, especially if you start doing it early. But injecting a painful knee with an anti-inflammatory steroid medication before starting physical therapy offers no additional benefit, according to a clinical trial in JAMA Internal Medicine.
Studies have shown that physical therapy modestly reduces pain and improves daily functioning in people with knee osteoarthritis. That could mean being able to walk farther with less pain or to continue leisure activities such as gardening. Before you start physical therapy, your doctor may offer to inject the knee with a cocktail of anti-inflammatory steroid medication and an anesthetic. Hypothetically, this could make it easier for you to stick with exercise and therefore lead to better results.
The study involved 100 men and women, whose average age was 63, with pain and swelling in the knee. They were chosen at random for an injection in the joint of either a steroid or a saline placebo, followed by 12 weeks of supervised exercise sessions, three times per week. The participants all reported less pain, but they didn't do any better if they had also received a steroid injection.
To continue reading this article, you must
login
.
Subscribe to Harvard Health Online for immediate access to health news and information from Harvard Medical School.