Ask the doctor: Jogging and arthritis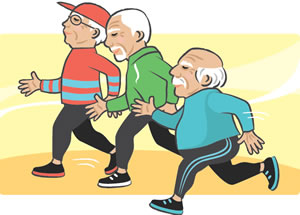 Image: Thinkstock
Q. I'm 68 and I've jogged regularly for decades, but I've developed a touch of arthritis in my knees. Will continuing to run make my knees wear out faster?
A. Having mild arthritis in the knees should not stop you from running, and the running probably did not create the problem in the first place.
Because of the force on the knees during running, many people think that running itself can accelerate the natural wear and tear on the joints. In fact, the medical research tends to show that running has a protective effect on arthritis. Studies of large numbers of men show that recreational runners have a lower risk of hip and knee arthritis. This effect is partly explained by the lower body weight of these men. Other studies that measure knee cartilage suggest that running may stimulate cartilage to grow, not wear it out.
To continue reading this article, you must
login
.
Subscribe to Harvard Health Online for immediate access to health news and information from Harvard Medical School.