Uterine And Bladder Prolapse
What Is It?
The uterus and the bladder are held in their normal positions just above the inside end of the vagina by a "hammock" made up of supportive muscles and ligaments. Wear and tear on these supportive structures in the pelvis can allow the bottom of the uterus, the floor of the bladder or both to sag through the muscle and ligament layers. When this occurs, the uterus or bladder can create a bulge into the vagina. In severe cases, it is possible for the sagging uterus or bladder to work its way down far enough that the bulge can appear at the vagina's opening or even protrude from the opening. When the uterus sags downward, it is called uterine prolapse. When the bladder sags, it is called bladder prolapse, also known as a cystocele.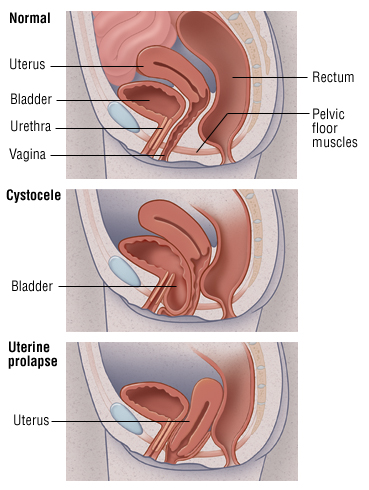 Various stresses can cause the pelvic muscles and ligaments to weaken and lead to uterine or bladder prolapse. The most significant stress on these muscles and ligaments is childbirth. Women who have had multiple pregnancies and vaginal delivery are more likely to develop prolapse. Other stresses that can lead to prolapse include constipation with a habit of frequent straining to pass stool and a chronic cough. Obesity also can strain the pelvic muscles. Support problems in the pelvis become worse after menopause because the pelvic tissues depend on estrogen to help them keep their tone, and estrogen levels drop after menopause.
To continue reading this article, you must
login
.
Subscribe to Harvard Health Online for immediate access to health news and information from Harvard Medical School.