Ask the doctor: What can I do for bunions?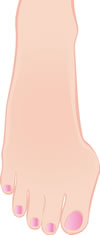 Image: Thinkstock
Q. I have developed bunions, making it impossible to wear most of my shoes without pain. Is there anything I can do to help the problem without undergoing surgery?
A. There are several things that can be done for bunions, which develop when the first metatarsal bone of the foot turns outward and the big toe points inward (toward the other toes), causing the joint to bulge outward. A podiatrist would be able to suggest ways to relieve your pain and prevent your bunions from getting worse. He or she will likely recommend different types of shoes, especially if you've been wearing shoes with pointed toes, high heels, or both. Podiatrists often prescribe custom-fitted padded inserts, known as orthotics, that are worn inside your shoes to help relieve pressure on your bunions. Surgery is usually a last resort, but your podiatrist will also be able to discuss the risks and benefits of different types of bunion surgery.
To continue reading this article, you must
login
.
Subscribe to Harvard Health Online for immediate access to health news and information from Harvard Medical School.