What is a silent stroke?
Ask the doctor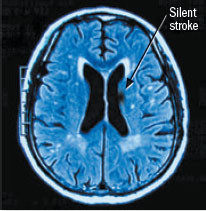 Q. My aunt, who is in her late 70s, recently had a brain scan after a minor fall. She seems fine now, but the doctor said the scan showed evidence of an unrelated silent stroke. What does that mean?
A. A silent stroke refers to a stroke that doesn't cause any noticeable symptoms. Most strokes are caused by a clot that blocks a blood vessel in the brain. The blockage prevents blood and oxygen from reaching that area, causing nearby brain cells to die. Depending on the location of the clot, this can cause symptoms such as weakness in an arm or leg (which could cause a fall) or trouble speaking or seeing. But sometimes, the area of damage is quite small and occurs in a part of the brain that doesn't control any vital functions, so the stroke remains undetected.
To continue reading this article, you must
log in
.
Subscribe to Harvard Health Online for immediate access to health news and information from Harvard Medical School.