Heart Health
FDA urges the food industry to cut back on salt
Research we're watching
Last October, the FDA called for the food industry to voluntarily cut the amount of sodium (a main component of salt) in processed, packaged, and prepared foods. Those products provide about 70% of the sodium in the typical American diet, which includes an average of about 3,400 milligrams (mg) of sodium per day.
The new targets seek to lower the average sodium intake by about 12% over the next two-and-a-half years, down to about 3,000 mg per day. That amount is still above the 2,300 mg recommended by the federal dietary guidelines, but it's a start. Consuming too much salt can boost blood pressure and raises the risk of heart attack and stroke.
In the meantime, try to eat more fresh, unprocessed foods and cut back on the saltiest foods in your diet (or seek out lower-sodium versions). The top sources of dietary sodium include breads and rolls (because people eat them frequently), cold cuts and cured meats, pizza, poultry dishes (such as rotisserie chicken and chicken nuggets), soup, and sandwiches (including burgers).
Image: © AndreyPopov/Getty Images
Disclaimer:
As a service to our readers, Harvard Health Publishing provides access to our library of archived content. Please note the date of last review or update on all articles.
No content on this site, regardless of date, should ever be used as a substitute for direct medical advice from your doctor or other qualified clinician.
You might also be interested in…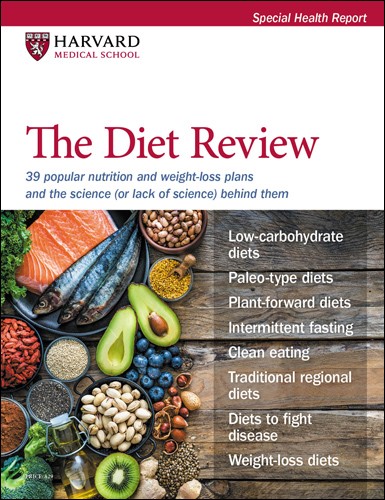 The Diet Review: 39 popular nutrition and weight-loss plans and the science (or lack of science) behind them
You have tremendous latitude in what goes into your daily diet—and the choices you make can have profound consequences for your health. But what diet should you choose? The range is truly dizzying. Just some of the diets you might encounter are vegan, pegan, and portfolio. Raw food, whole foods, and Whole 30. Keto, carnivore, and paleo. Clean eating and intermittent fasting. DASH, MIND, and Volumetrics. Mediterranean, Nordic, and Okinawan. What does it all mean? And how can you begin to make sense of it? This Special Health Report is here to help.
Read More
Free Healthbeat Signup
Get the latest in health news delivered to your inbox!