Angioplasty and stenting through the arm
Ask the doctor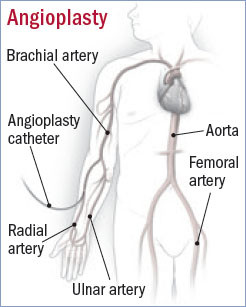 Q. My friend recently got a heart stent with a procedure that involved going through his wrist instead of his upper leg. What are the pros and cons of these different techniques?
A. To deliver an artery-opening coronary stent, a doctor must gently guide a thin tube (catheter) and other instruments through a major blood vessel to reach the heart. This technique is known as angioplasty and stenting. Traditionally, the vessel of choice has been the femoral artery, the large vessel at the top of the thigh. One advantage of using this artery is that it's relatively large, which makes maneuvering the catheter a bit easier. Also, the vessel leads directly to the heart. In the United States, most doctors were trained in this so-called femoral approach.
To continue reading this article, you must
log in
.
Subscribe to Harvard Health Online for immediate access to health news and information from Harvard Medical School.