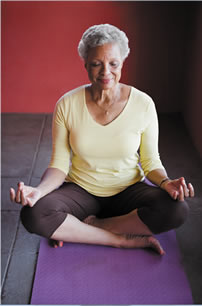 Image: Thinkstock
Although more than 80% of women with breast cancer use alternative therapies to relieve the side effects of treatment, there has been no scientific consensus on which ones are safe and effective. Researchers from several major cancer centers have analyzed data on over 80 such therapies and created a set of guidelines to help women with breast cancer and their oncologists. The results were published online in Journal of the National Cancer Institute Monographs on Oct. 27, 2014.
Only a few therapies were deemed to have enough evidence to justify recommendation—meditation, yoga, and relaxation with imagery for anxiety, stress, depression, and fatigue, and acupuncture for controlling nausea and vomiting from chemotherapy. Acetyl-L-carnitine, a supplement used to ease nerve pain, was found to increase nerve damage instead.
The report is a reminder to get as much information as possible before you try an alternative remedy for any condition. You could be wasting money and even harming yourself.