Research we're watching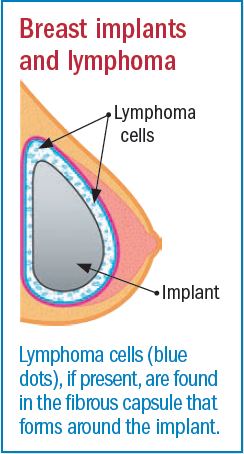 The FDA's medical device reporting program recently announced that as of February 1, it had received 359 reports of anaplastic large cell lymphoma (ALCL), a rare type of non-Hodgkin's lymphoma, in women who had received breast implants. Nine women had died of the disease. The FDA uses such reports to alert clinicians about potential significant side effects from approved drugs and devices, and as it gathers more information, the data may change. Many reports contained details of the implants, including whether the outside surface was smooth or textured and whether the filling was silicone gel or saline.
ALCL is usually found within a capsule of fibrous scar tissue that forms around an implant, not in the breast tissue itself. It appears to develop more frequently in women with textured implants, regardless of filling type.
Before getting breast implants, make sure to talk to your health care provider about the benefits and risks of all types of implants. If you already have breast implants, you'll want to be alert for persistent swelling or pain in the tissue surrounding the implant, which may occur years after the implant has been placed. Get routine mammography screening and ask for a technologist specifically trained in performing mammograms on women with breast implants.
Image: Food and Drug Administration