By

Ilona T. Goldfarb, MD, MPH, Contributor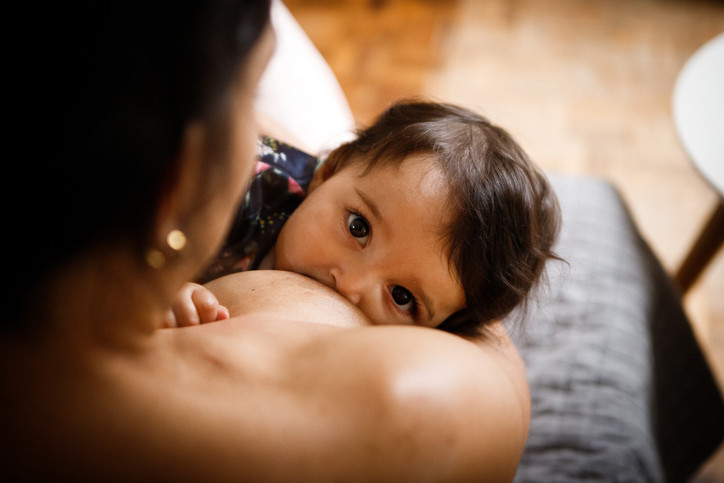 The Centers for Disease Control and Prevention (CDC), the American College of Obstetricians and Gynecologists (ACOG), and the Society for Maternal-Fetal Medicine (SMFM) recommend that everyone should receive the COVID-19 vaccine, including those who are pregnant or breastfeeding.
If you're breastfeeding, you may have questions around the risks and benefits of these vaccines. (If you are pregnant and wondering about COVID-19 vaccines, you can also read this blog post.)
Keep in mind that information is evolving rapidly. Your obstetric provider or medical team can advise you more fully about potential benefits and risks to you and your child, based on your personal health risks, exposures to the virus that causes COVID-19, and your preferences.
A few key points about COVID-19
COVID-19 is potentially dangerous for all people, including during a pregnancy and during the postpartum period (the first 12 weeks after birth). During the postpartum period, the absolute risk is low for severe illness from COVID-19. However, being older or having some health issues increases the risk. Examples are diabetes, high blood pressure, or being at an unhealthy weight.
If you do get COVID-19 while breastfeeding, it's possible to infect your baby through contact and respiratory droplets. However, no reports have suggested that COVID-19 is passed from mother to baby through breast milk. This means mothers who have COVID-19 may continue to provide their babies with breast milk, either while breastfeeding or by pumping milk to be given to the baby by bottle. Remember to pay close attention to handwashing and wear a well-fitting mask when caring for your baby.
Getting vaccinated during pregnancy or during the postpartum period can help protect you and your baby after birth. Unlike COVID-19, some of a mother's immunity against COVID-19 from a vaccine can pass through breast milk to your baby.
Which vaccines are approved or authorized?
The Pfizer/BioNTech COVID-19 vaccine is fully approved by the Food and Drug Administration (FDA) for people ages 16 and older (children 12 to 15 can receive this vaccine through emergency use authorization). The Moderna and Johnson and Johnson COVID-19 vaccines have emergency use authorization from the FDA.
All of these vaccines deliver instructions to the body that help the immune system block the virus that causes COVID-19. This can be done in different ways:
Two-dose Pfizer/BioNTech vaccine: this vaccine uses mRNA.
Two-dose Moderna vaccine: this vaccine uses mRNA.
One-dose Johnson and Johnson vaccine: this vaccine uses a harmless, modified form of the common cold virus in humans called an adenovirus.
Studies show all three vaccines are extremely effective in reducing risk for severe illness, hospitalizations, and deaths from COVID-19. They also help reduce risk for moderate illness. So, while some people who are fully vaccinated may still get COVID-19, they are protected against serious illness and death. Booster shots may be considered to further increase the effectiveness of the vaccines for some people. Ask your doctor about this.
You can read more about the different vaccines at the Harvard Health Coronavirus Resource Center.
What about vaccine side effects?
In large clinical trials, most side effects have been minor. When side effects occur, they typically last just a few days. A side effect or reaction isn't necessarily all bad, by the way; it may indicate that the body is building protection against the virus.
For the three vaccines listed above, common side effects include
pain at the site of the injection
painful, swollen lymph nodes in the arm where the vaccine was injected
tiredness
headache
muscle or joint aches
nausea and vomiting.
For more information about common COVID vaccine side effects, see this CDC resource page.
What to consider about COVID-19 vaccines if you're breastfeeding
Experts believe it is safe for mother and baby to get a COVID-19 vaccine if you're breastfeeding. Breastfeeding people were not included in the COVID-19 vaccine trials, but the mechanism of the COVID-19 vaccines and experience from other vaccines given during breastfeeding suggest this is true. A few examples of these vaccines are Tdap, MMR, and chickenpox.
It is important to know:
There is no live virus that can make you sick in the mRNA or Johnson and Johnson vaccines. So you cannot get COVID-19, or give your baby COVID-19, by being vaccinated. The components of the vaccine are not known to harm breastfed infants.
When you receive the vaccine, the small vaccine particles are used up by your muscle cells at the injection site, and thus are unlikely to get into breast milk. Any that reach the breast milk would likely be digested.
When a person gets vaccinated while breastfeeding, their immune system develops antibodies that protect against COVID-19. These antibodies are passed through breast milk to the baby. Newborns of vaccinated mothers who breastfeed can benefit from these antibodies against COVID-19.
The bottom line
COVID-19 vaccination for people who are breastfeeding has many potential benefits. It helps to become as informed as you can when making your decision. We will continue to learn more about COVID vaccine safety during breastfeeding from studies now underway.
Meanwhile, you can stay informed on this evolving information by checking trusted health websites, such as those listed above, and by talking with your healthcare providers. Together you can balance the latest data on the risks of COVID-19, the safety of available vaccines for people who are breastfeeding, your individual risk factors and exposures, and your values and preferences.
Additional resources
Coronavirus (COVID-19), Pregnancy, and Breastfeeding: A Message for Patients. American College of Obstetricians and Gynecologists.
About the Author
Ilona T. Goldfarb, MD, MPH, Contributor
Ilona Goldfarb, MD, MPH, is a board-certified maternal fetal medicine specialist at the Massachusetts General Hospital (MGH). She completed medical school and residency in California and a fellowship at MGH. Her areas of interest and expertise …
See Full Bio
View all posts by Ilona T. Goldfarb, MD, MPH
Disclaimer:
As a service to our readers, Harvard Health Publishing provides access to our library of archived content. Please note the date of last review or update on all articles.
No content on this site, regardless of date, should ever be used as a substitute for direct medical advice from your doctor or other qualified clinician.