By

Annie Brewster, MD, Contributor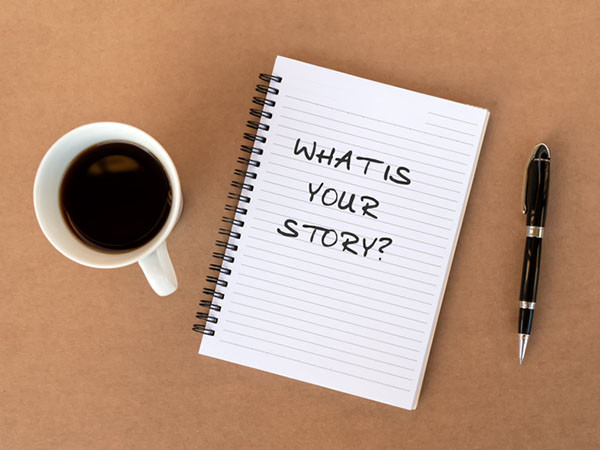 As a doctor working on the front lines in a designated respiratory illness clinic, I have been submerged in all things COVID-19 for the past 15 months. It has been exhausting and heavy, tinged with constant uncertainty, fear, and loss, and I am so ready for it to end.
One thing is certain: all of us have been changed by the pandemic, individually and collectively. Our life stories have shifted and will continue to shift in response to what we have experienced. In April of 2020, early in the pandemic, I wrote about how telling our stories can help us navigate and ultimately make sense of the trauma and loss associated with COVID-19.
Building on research from the field of narrative psychology that supports the mental health benefits of narrative, I have dedicated much of the past decade to helping people heal through storytelling. Studies have shown that digging into our personal stories, reflecting on them, and editing them as our lives evolve, is good for us. Sharing them with others, though it makes us vulnerable, is an important part of this healing.
Today, as we emerge from over a year of social isolation, I am focused on the benefits of sharing stories in community. When we witness someone else's vulnerability in a safe and supportive environment, we feel less alone, and often just plain better. Stories connect us as human beings and build bonds between us. We need them now more than ever.
Storytelling is a balm for loneliness
Storytelling is an inherently social practice, one that fosters intimacy and connection with others. Research has consistently shown that relationships are good for us and social isolation is bad — clearly linked to earlier cognitive and physical decline and increased mortality. Research on the mortality risk of loneliness suggests it is equivalent to smoking 15 cigarettes a day, and commensurate with other well-established health risk factors, such as inactivity, obesity, substance abuse, and mental illness.
When it comes to illness, support groups have been proven to improve mental health, physical symptoms, and quality of life. When people with chronic diseases like diabetes or high blood pressure listen to stories told by others living with and managing these conditions, they do better — exercise more, eat a healthier diet, communicate more with their doctors, and even have better blood pressure numbers.
Recently, researchers have demonstrated that storytelling can make hospitalized kids feel better. Young children in the intensive care unit who heard stories for 30 minutes had higher levels of oxytocin, a hormone linked to empathy and social connectedness, and lower levels of the stress-related hormone cortisol, compared to a group who played a riddle game for 30 minutes. The storytelling kids also described their hospital experiences more positively, and reported lower levels of pain.
Sharing my health story
In addition to being a doctor, I am a patient, living with multiple sclerosis since 2001. It took me years to accept my diagnosis, to integrate it into my identity, and sharing my story helped me do this. In fact, it helped me so much that I started Health Story Collaborative in order to create a forum for story exchange, to help others make sense of mental and physical health challenges. But the pandemic has taught me that I still have a lot to learn about letting my guard down, asking for help, and being a true community member.
By sharing and receiving stories, we can help ourselves and others; we can build and strengthen relationships; we can move closer to self-acceptance and self-love. Yes, I have shared my story and integrated my MS into my life, but not fully. For years, I have kept myself separate from the MS community — not intentionally, or at least not consciously so, but with determination. I have never joined a support group or any other event designated for MS patients. Never. "I am not one of them," I subconsciously told myself. This separateness gave me the illusion of safety.
Strength in community
If I have learned anything from the pandemic, it is that community sustains us. I knew this, of course, but now I know it differently. Because an opportunity presented itself, and because I am feeling brave, I joined a new initiative called MS Confidential, "a webcast series of candid conversations on navigating the chaos of MS." I am one of four panelists. We all have MS, and range in age from 30 to 65 and in disease severity from minimally disabled to quadriplegic. I am one of them, and it feels good.
Last week, one of the panelists, more than 20 years my junior, sent a message to our personal group chat asking for help, letting us know that she wasn't 100% okay in that moment, and we responded in support. I am so grateful to her for doing this, because it opened a door for me. I'm not quite there yet, but I aspire to be more at ease asking for help, at being okay with not being okay sometimes. I'm working on it, and I encourage you to do the same.
Resources
The Health Story Collaborative
About the Author
Annie Brewster, MD, Contributor
Annie Brewster is an assistant professor at Harvard Medical School, and a practicing internist at Massachusetts General Hospital, Boston. She is also a patient, diagnosed with multiple sclerosis in 2001. She has been collecting and sharing …
See Full Bio
View all posts by Annie Brewster, MD
Disclaimer:
As a service to our readers, Harvard Health Publishing provides access to our library of archived content. Please note the date of last review or update on all articles.
No content on this site, regardless of date, should ever be used as a substitute for direct medical advice from your doctor or other qualified clinician.