Heart Health
Smoking more than doubles heart risk among African Americans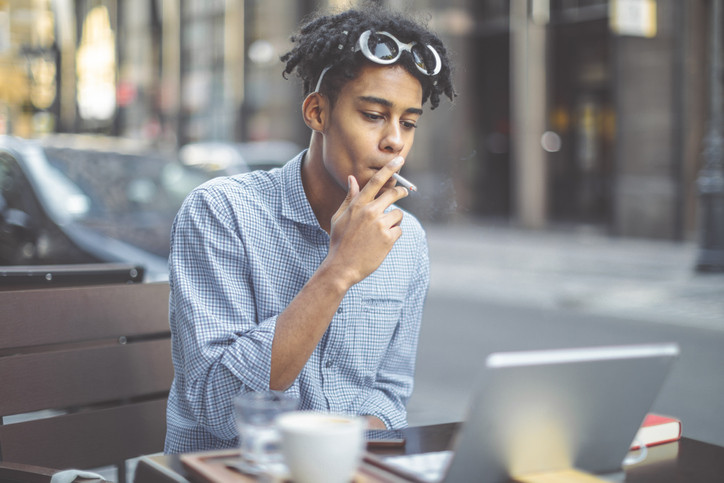 Last year, while deaths from COVID-19 made headlines, heart disease remained the leading cause of death in the US. The most common form is coronary heart disease or CHD, which is also known as coronary artery disease. We know that some groups of people are more likely to die from CHD than others: deaths are higher among African Americans than among people who are white. One underlying factor is longstanding disparities in health problems that affect the heart and blood vessels, such as diabetes, high blood pressure, and obesity. Now, new research from the Jackson Heart Study offers information on the role that smoking may play.
How does smoking harm the heart and blood vessels?
Smoking is a well-established risk factor for cardiovascular disease. It causes inflammation, disruption to the lining of blood vessels, and an imbalance of factors important for maintaining oxygen levels, which can narrow arteries through plaque deposits (atherosclerosis).
In a 2019 survey, nearly 15% of African Americans reported using cigarettes containing tobacco and 4% reported using e-cigarettes. Research shows African Americans smoke for longer periods of time and quit smoking at lower rates than white smokers. Unfortunately, studies examining the relationship between cigarette smoking and CHD in African Americans are not as robust.
What is the Jackson Heart Study?
The Jackson Heart Study (JHS) is a prospective cohort study that began in 1998. Participants with and without risk factors for heart disease were followed over time and monitored for heart disease occurrence. Using data gathered from in-person exams and annual telephone interviews, the researchers followed approximately 5,300 African American participants living in three counties within the Jackson, Mississippi metropolitan area. By doing this, the researchers aim to identify and explore risk factors for cardiovascular disease among African Americans. Community education and outreach efforts based on that information could help reduce future illness.
Almost 700 studies on aspects of heart health have been published using JHS data, which contributes to findings from the Framingham Heart Study. This well-known cohort study established many accepted risk factors for CHD, such as high blood pressure, diabetes, imbalances in lipids like cholesterol, and smoking, and continues to inform our understanding of factors that affect heart health. But in the Framingham Heart Study, more than 98% of participants are white, which limits our ability to apply recommendations across racial and ethnic groups.
One example is triglyceride/HDL-C, a lipid ratio recommended to identify insulin resistance that came from research done in Framingham. The Jackson Heart Study researchers found that the standard cutoffs for the ratio did not apply equally well for African Americans, and could lead to overtreatment that offered no additional benefit. This helps explain why the Jackson Heart Study is uniquely suited to expand our knowledge within an African American population.
How does smoking affect CHD in African Americans?
In an analysis published in Journal of the American Heart Association, investigators looked at data from 4,432 JHS participants:
About 12% identified themselves as current smokers. Compared with never smokers and former smokers in the study, this group was younger, more likely to be male, and had lower body mass indexes.
Nearly 18% identified themselves as former smokers. This group had more cardiovascular risk factors, such as diabetes and hypertension.
After adjusting for traditional heart disease risk factors, the researchers found current smokers had slightly more than twice the risk of CHD compared to those who never smoked. They also had more atherosclerotic plaque buildup as measured by a coronary calcification score, compared to never smokers. Higher calcification scores help predict future CHD.
Interestingly, former smokers did not have an increased risk for CHD. The study authors suggest that quitting smoking may reduce CHD risk in former smokers to levels at or near those who never smoked.
Why is this study important?
This study is among the first to evaluate the relationship between cigarette smoking and coronary heart disease in a large cohort of African Americans. Although many people know that smoking is a risk factor for heart disease, the results of this study show that African Americans have a uniquely higher risk in comparison to whites.
While additional research is needed, this data could help us think about ways to encourage African Americans to cut down or quit smoking given the health benefits. Ideally, this would be accomplished through community-based participatory research. This involves working with communities to design and carry out research studies, and implement the strategies that are found have a positive impact. This is important for gaining trust and building relationships needed to make our communities healthier.
In this study, smoking was linked with a more than twofold higher risk of developing CHD compared with not smoking. Further, those who smoked more scored higher on an imaging test for atherosclerosis that looks for plaque buildup inside coronary vessels that feed blood to the heart. By comparison, among the predominantly white participants in the Framingham Heart Study, smoking is associated with twice the risk for CHD in men and one-and-one-half times the risk in women.
One final takeaway: CHD risk in former smokers was comparable to people who had never smoked. So, stepping up efforts to help people quit smoking may be one way to reduce the risk for this type of heart disease in African Americans.
Follow Dr. Gaggin on Twitter @HannaGaggin
About the Authors
Christy N. Taylor, MD, MPH, Contributor
Dr. Christy Taylor is an internal medicine resident at Massachusetts General Hospital. She completed her undergraduate and graduate studies, in biology and public health respectively, at the University of Miami. She subsequently completed her medical degree at …
See Full Bio
View all posts by Christy N. Taylor, MD, MPH
Hanna Gaggin, MD, MPH, Contributor
Hanna Gaggin, MD, MPH, is a general cardiologist, educator, and clinical investigator at Massachusetts General Hospital and Harvard Medical School. She is a member of the cardiovascular medicine section leadership council and the cardiovascular continuing medical …
See Full Bio
View all posts by Hanna Gaggin, MD, MPH
Disclaimer:
As a service to our readers, Harvard Health Publishing provides access to our library of archived content. Please note the date of last review or update on all articles.
No content on this site, regardless of date, should ever be used as a substitute for direct medical advice from your doctor or other qualified clinician.
Free Healthbeat Signup
Get the latest in health news delivered to your inbox!