Cancer
Preserving fertility during cancer treatments
Cancer treatment — and cancer itself — can threaten fertility. This is a tremendously important survivorship issue for many people. As an oncologist, I'm often asked questions about preserving fertility during cancer treatment. If this issue affects you, here is an overview of key options.
When should you talk to your cancer team about fertility?
Future children may not be foremost on your mind when you are diagnosed with cancer. Soon afterward, though, it's worth talking to your doctor about fertility issues, if this is important to you now or might one day become important.
Your doctor can explain:
the risk that your cancer might cause infertility
the risk that your treatment might cause infertility
options before or during treatment that might help you preserve fertility.
What might make infertility more likely to occur?
When an adult has cancer, some factors that raise risk for infertility include:
Age. Infertility is more likely in women who are older at diagnosis.
Type of cancer. Some cancers affect fertility, such as Hodgkin's lymphoma, or prostate cancer in men.
Treatments. Some treatments affect fertility by damaging or removing reproductive organs. For example, treating cervical, uterine, or ovarian cancer usually requires removing a woman's ovaries, fallopian tubes, and uterus. Radiation to the pelvis used to treat colon or uterine cancer can permanently harm ovaries. And some, but not all, chemotherapies needed to effectively treat different cancers may temporarily or permanently cause women to stop having periods (amenorrhea), a surrogate measure for damage to the eggs in the ovaries. This is less likely to happen to younger women. Research on women treated with chemotherapy containing cyclophosphamide shows that amenorrhea occurred in 0% to 15% of women 35 or younger; 30% to 50% of women between 36 and 40; and 70% of women over 40.
Can cancer treatments be adapted to preserve fertility?
Sometimes it's possible to do this, although not always. Special approaches to preserve fertility have been developed for younger women with certain lower-risk cancers. This might entail moving ovaries out of a radiation field. Or it might mean doing less surgery, such as removing only one ovary, or sparing part of the cervix in women with lower-risk cervical cancer or part of the uterus in women with lower-risk uterine cancer.
What else might help preserve fertility?
For men, sperm banking is the go-to option before cancer treatment. This can be costly over time. Also, having cancer may affect sperm production for some men.
For women, options are usually more complicated.
Suppressing the ovaries with a monthly shot of medication during treatment. Some research links this approach with less premature menopause and greater fertility. While this strategy is fairly straightforward, whether it actually works is controversial. It appears to have only modest effects on fertility preservation, mainly in patients with breast cancer.
Freezing eggs or embryos before treatment. This option works for women with many types of cancers. To harvest eggs, a woman generally undergoes ovarian stimulation with hormones. Minor surgery is then done to remove the maturing eggs for immediate freezing or fertilization before freezing. The procedure takes two to six weeks, which is too long to wait to treat some cancers. This option can be expensive and is often not covered by insurance. Also, for women with some cancers, such as hormone-sensitive breast cancer, experts are unsure if the high hormonal levels needed to stimulate the ovaries may have an impact on cancer growth. Your doctor can explain more about what is, and isn't, known.
Freezing whole ovaries or slices of ovarian tissue. Only certain specialized centers offer this experimental option. It requires surgery before cancer treatment, but no time for ovarian stimulation, so it may be particularly attractive for women who need to start treatment quickly. At this time, the techniques are experimental. Success rates — that is, successful births — are limited. Some experts are concerned about using this approach for women with cancers known to spread to the ovaries. It may not be safe to implant tissue that may be harboring cancer cells back into a woman who has been cured of a cancer.
How can you learn more?
Talk to your health care team about your hopes and concerns.
A reproductive endocrinologist (fertility doctor) can help you learn about available options, processes, and risks. Be sure to ask questions about safety, timing, availability, success rates, and costs of all potential fertility preservation strategies.
Ask your cancer care team about the safety and feasibility of pregnancy after cancer. This is particularly important for women with high-risk cancers and hormone-sensitive cancers, such as breast cancer. Fortunately, the most recent data suggest that pregnancy itself does not worsen breast cancer outcomes. But some concerns remain, especially if women stop taking risk-reducing hormone therapy early in order to become pregnant. Research is underway to learn more about this issue.
Resources
Check these web sites for more information and answers to many questions:
About the Author
Ann Partridge, MD, MPH, Contributor
Dr. Ann Partridge is a professor of medicine at Harvard Medical School. She is vice chair of medical oncology and director of the Adult Survivorship Program at Dana-Farber Cancer Institute and Brigham and Women's Hospital, where …
See Full Bio
View all posts by Ann Partridge, MD, MPH
Disclaimer:
As a service to our readers, Harvard Health Publishing provides access to our library of archived content. Please note the date of last review or update on all articles.
No content on this site, regardless of date, should ever be used as a substitute for direct medical advice from your doctor or other qualified clinician.
Comments
Commenting has been closed for this post.
You might also be interested in…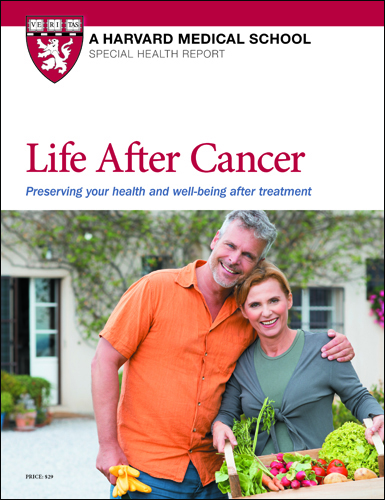 Life After Cancer
This Special Health Report is designed to guide you through the next stage of your cancer journey. It will walk you through many of the issues you'll face in the upcoming months and years—the long-term and late effects of your cancer and treatment; the potential for a recurrence or new cancer; the emotional, occupational, and financial issues you'll potentially face; and the implications for your family and friends. You'll learn how to readjust to the life you may have put on hold during your treatment, transitioning back to your full work and home life. And you'll learn ways to maintain your health to prevent new problems, including cancer, from taking hold again.
Read More
Free Healthbeat Signup
Get the latest in health news delivered to your inbox!