Medications
Is it safe to reduce blood pressure medications for older adults?
"Doctor, can you take away any of my medications? I am taking too many pills."
As physicians, we hear this request frequently. The population most affected by the issue of being prescribed multiple medications, known as polypharmacy, is the elderly. Trying to organize long lists of medications, and remembering to take them exactly as prescribed, can become a full-time job. In addition to the physical and emotional burden of organizing medications, older adults are at increased risk for certain types of side effects and potential worse outcomes due to polypharmacy.
A common source of prescriptions is high blood pressure, with older adults often finding themselves on multiple medications to lower their blood pressure. Data from the Framingham Heart Study show that over 90% of middle-aged people will eventually develop high blood pressure, and at least 60% will go on to take medications to lower blood pressure.
The OPTIMISE trial, recently published in JAMA, studied the effect of reducing the number of blood pressure medications, also known as deprescribing, in the elderly.
How low should blood pressure be in older adults?
Previous large studies, including the HYVET trial and the more recent SPRINT trial, have shown that treatment of high blood pressure in older adults remains important, and may reduce the risk of heart attack, heart failure, stroke, and cardiovascular death. Black adults made up 31% of the SPRINT trial study population; therefore, study results could be used to make recommendations for this population, which is at increased risk for high blood pressure. However, many groups of older people were excluded, including nursing home residents, those with dementia, diabetes, and other conditions common in more frail older adults.
The most recent guidelines from the American College of Cardiology (ACC) and the American Heart Association (AHA), published in 2017, define optimal blood pressure as less than 120/80 for most people, including older adults age 65 or above. They recommend a target of 130/80 for blood pressure that is treated with medication. The 2018 guidelines from the European Society of Cardiology (ESC) and the European Society of Hypertension (ESH) recommend a more relaxed goal of less than 140/90.
The US and European populations differ in their risk for cardiovascular disease, with the US population generally considered at higher risk for strokes, heart failure, and heart attacks, so it might be appropriate to have different blood pressure goals for these two groups. Regardless, both groups acknowledge that factors such as frailty, limited life expectancy, dementia, and other medical issues should be considered when developing individualized goals for patients.
What happened to older patients whose blood pressure medications were reduced?
The OPTIMISE trial provided preliminary evidence that some older adults may be able to reduce the number of blood pressure medications they take, without causing a large increase in blood pressure. For the trial, researchers randomized 569 patients age 80 or older, with systolic blood pressure lower than 150 mm Hg, to either remain on their current blood pressure medications, or to remove at least one blood pressure medication according to a prespecified protocol. The study subjects were followed for 12 weeks to assess blood pressure response.
Researchers found that both the people who remained on their previous blood pressure medications and those who reduced the number of medications had similar control of blood pressure at the end of the study. While the mean increase in systolic blood pressure for the group that reduced medications was 3.4 mm Hg higher than the control group, the number of patients who had systolic blood pressure below the goal of 150 mm Hg at the end of the study was not significantly different between groups. Approximately two-thirds of patients were able to remain off the medication at the end of the study.
It is important to note that OPTIMISE is relatively a small study, and the investigators did not examine long-term outcomes such as heart attack, heart failure, or stroke for this study (as the HYVET and SPRINT trials did), so we don't know what the long-term effect of deprescribing would be.
More research needed to examine long-term effects of deprescribing
While the OPTIMISE trial was promising, larger and longer-duration trials looking at outcomes beyond blood pressures alone are necessary to really know whether deprescribing is safe in the long term. Additionally, these researchers used a target systolic blood pressure of less than 150 mm Hg, which is higher than the most recent ACC/AHA and ESC/ESH recommendations.
An interesting aspect of this study design is that the primary care physician had to feel that the patient would be a good candidate for deprescribing. This left room for physicians, who may know patients well, to individualize their decisions regarding deprescribing.
The bottom line
This trial gives doctors and other prescribers some support when considering a trial of deprescribing a blood pressure medication for select older patients, with a goal to improve quality of life. These patients must be closely followed to monitor their responses.
Follow us on Twitter @HannaGaggin and @DanKirsh.
About the Authors
Daniel Kirshenbaum, MD, Contributor
Daniel Kirshenbaum, MD, is a general cardiologist at the Massachusetts General Hospital and Instructor in Medicine at Harvard Medical School. He completed his internal medicine residency at Boston Medical Center (BMC), also serving as Chief Medical …
See Full Bio
View all posts by Daniel Kirshenbaum, MD
Hanna Gaggin, MD, MPH, Contributor
Hanna Gaggin, MD, MPH, is a general cardiologist, educator, and clinical investigator at Massachusetts General Hospital and Harvard Medical School. She is a member of the cardiovascular medicine section leadership council and the cardiovascular continuing medical …
See Full Bio
View all posts by Hanna Gaggin, MD, MPH
Disclaimer:
As a service to our readers, Harvard Health Publishing provides access to our library of archived content. Please note the date of last review or update on all articles.
No content on this site, regardless of date, should ever be used as a substitute for direct medical advice from your doctor or other qualified clinician.
Comments
Can someone explain the difference between statistical benefit and clinical benefit? For example, say the increased risk of a heart attack or stroke between 120/80 and 140/90 is 10%. And the risk of a heart attack or stroke for someone with BP @120/80 is 5%. Does that mean that for a give person at BP 140/90 their risk increase 10%, from 5% to 5.5%? If so, then out of 1,000 people controlling their BP with medication to 140/90 instead of 120/80, an additional 5 will have a heart attack or stroke. This would mean for a given individual there is a 99.995% chance that the extra medication won't have a positive impact, but a 100% chance that the body will be affected by the meds. Am I getting this right?
Wilcox John T.
September 1, 2020
My own PCP did not like to give me much medicine to lower my elevated blood pressure, since he thought a lower pressure might increase my changes of falling–a big risk for older people. I'm 86 years old. So I'd like your longer study to see (inter alia) whether the fall risk went up as the BP went down in older adults. PLEASE.
S. Char
September 1, 2020
OK 2/3 gave up medications for BP and there was no significant change in their BP. However, the ultimate decision to deprescribe excess medication is left hanging because you did not state long term consequences such as an attack , of course there are no such long term effect or longitudinal studies. Any idea how soon we can tell that you don't need these x,y,z medications without fear of more consequential issues to the BP person?
Any older person with blood pressure 140 and under should not be on any blood pressure meds. As blood pressure varies throughout the day, it is a far more dangerous situation to have the blood pressure drop to the extent that they pass out and fall. As falls are a much more debilitating event.
Barry Skolnick
August 31, 2020
The implication from the study could be also that the extra blood pressure medication should not have been prescribed. I wonder how many studies of sequential prescriptions show the clear extra benefits and side effects? How many doctors prescribed more than one pill initially? Also, how many patients had white coat hypertension?
I'm a 73 year old male on a number of medications to control my BP which averages around 140/80 so this article is very relevant for me. After I read your Controlling Your Blood Pressure report I'm going to talk to my cardiologist about possibly reducing the number of medications I take and what he thinks my BP goal should be. Thanks for the article.
John D Collins
August 31, 2020
I am 79 y and on dialysis. I was very unwell as a result or the side effects of my prescribed drugs (these included 8mg doxazosin, 10mg felodipine, and 5mg Bumetanide. My eGFR was 6% and my BP was constantly above 175/60. I hypothesized that my overworked heart was receiving messages from my kidney requesting an increase in the blood pressure to enable the supply of blood in the hylar to be re-established. Of my own volition, I stopped all BP related drugs and retained only the sertraline (150mg down to 100), the alfacalcidol 100mcg, and the allopurinol 200mg down to 100mg daily, plus levothyroxine 100mcg.
The outcome was startling. My BP is now around 145/65 and my quality of life is vastly better in all respects.
KUMAR NAGARATNAM
August 31, 2020
It is not clear whether age related hardening of blood vessels contribute to higher BP. IF so, whether medications will relax the hardening and restore the blood vessels to more flexible condition to facilitate smoother blood flow and reduce BP.
Paul Jacobs
August 31, 2020
Trouble is there are many studies on drug effects but not enough on drug stoppage & possibly rebound effects when the condition treated returns even worse than before the drug was used. We need more studies like the ones on aspirin that show what effects stopping drugs have.
DeonKoen - South Africa
August 31, 2020
Thomas Bailey
August 31, 2020
In SPRINT, intensive sBP control (<120) reduced the risk of mild cognitive impairment (MCI), and a composite outcome of MCI+probable dementia compared to standard sBP control (<140) among adults age 50 or older w/o diabetes or stroke. The trial ended early because the cardiovascular endpoints were met. Since most people have MCI before developing dementia, this was an important finding, and is worth part of the discussion about reducing pill burden. JAMA. 2019;321(6):553-561. doi:10.1001/jama.2018.21442
Commenting has been closed for this post.
You might also be interested in…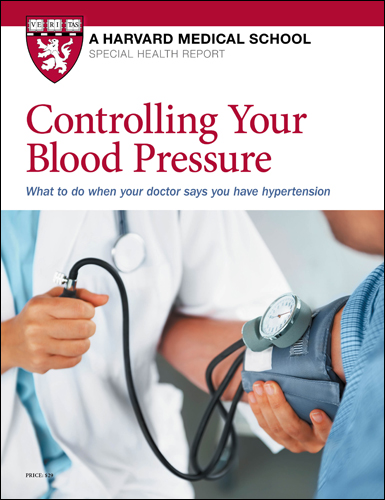 Controlling Your Blood Pressure
An alarming one in three American adults has high blood pressure. Known medically as hypertension, many people don't even know they have it, because high blood pressure has no symptoms or warning signs. But when elevated blood pressure is accompanied by abnormal cholesterol and blood sugar levels, the damage to your arteries, kidneys, and heart accelerates exponentially. Fortunately, high blood pressure is easy to detect and treat. In the Special Health Report, Controlling Your Blood Pressure, find out how to keep blood pressure in a healthy range simply by making lifestyle changes, such as losing weight, increasing activity, and eating more healthfully.
Read More
Free Healthbeat Signup
Get the latest in health news delivered to your inbox!