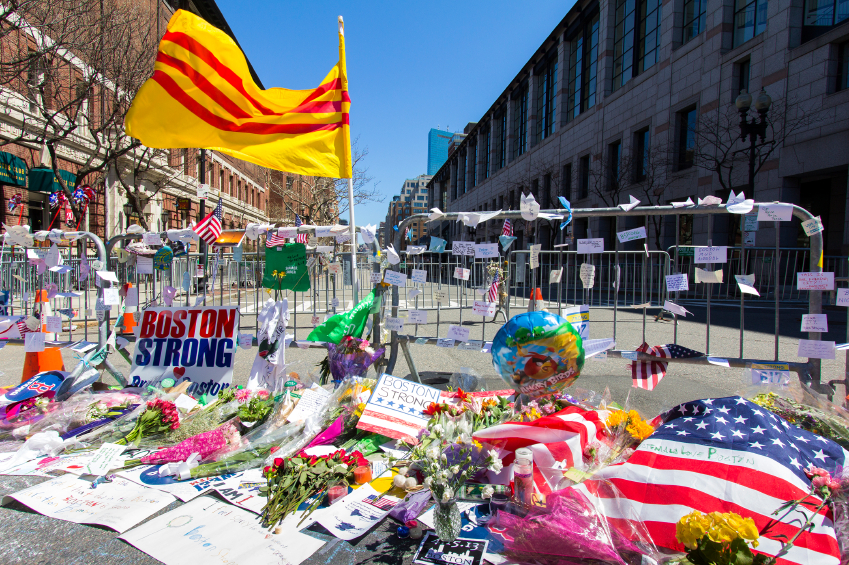 One year ago today, the detonation of two improvised bombs near the finish line of the Boston Marathon killed three people, injured more than 260 others, and shattered a day traditionally filled with joy and camaraderie. Although the bombing immediately extinguished the celebration, it sparked an outpouring of extraordinary work and compassion that continues to this day.
Residents of Boston, the Commonwealth of Massachusetts, and beyond rallied to help those injured by the bombs. It is a testament to the extraordinary care and preparation by first responders and staff members at all Boston-area hospitals that only three people died.
Many of the wounded were taken to teaching hospitals affiliated with Harvard Medical School: Beth Israel Deaconess Medical Center, Brigham and Women's Hospital, Massachusetts General Hospital, and Boston Children's Hospital. Physicians at Mass Eye and Ear helped those suffering from serious blast injuries. During the following weeks and months, clinicians at Spaulding Rehabilitation Hospital and McLean Hospital helped others recover. (Many of these institutions are marking the anniversary with a variety of events.)
"Not one single person transported to our hospitals on the day of the bombings died," said Dr. Jeffrey Flier, Dean of Harvard Medical School, in open letter to the HMS community. "Hundreds of hospital personnel, including some third-year HMS students who are graduating this year, responded in droves, doing what the medical profession has always been called upon to do—helping and healing, relieving suffering and saving lives. They followed their impulse to serve, to comfort and to heal."
In an article written for Harvard Medicine News, M.R.F. Buckley describes how staff members at Harvard-affiliated hospitals responded to the bombings.
In his book Code Blue: The Making of an Emergency Physician, Dr. Michael J. VanRooyen, professor of medicine at Harvard Medical School and an emergency department physician at Brigham and Women's Hospital, wrote about the day of the bombing and its aftermath. You can read his account here.
For a different perspective, John Hockenberry, host of the NPR Radio show The Takeaway, looks at how Boston has recovered from the bombing. He says that a recent report about the emergency response to the explosions at last year's marathon finish line found that the city of Boston "showed strength, resilience, and even defiance in the wake of the attack."
One year after this senseless tragedy, the healing continues. Our hearts and prayers go out to those who lost a loved one or who themselves still bear physical and emotional scars from April 15, 2013.