Scabies
What Is It?
Scabies is a mite infestation of the skin. The scabies mite, also known as the human itch or mange mite, causes intense itching, and it is contagious. When a person catches scabies, pregnant female mites dig burrows in the skin and lay eggs along the way. After three to eight days, the eggs hatch and the young mites travel up the burrows to the skin surface. There they grow to adulthood and mate, after which the females become pregnant and continue the skin infestation. Once a female mite finishes laying her eggs, she spends the rest of her 2-month life span at the deep end of her tunnel. Mite tunnels may be visible in the skin of a person who has scabies, although intense scratching often distorts their appearance.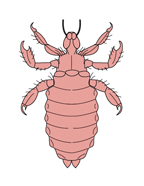 Scabies mites can be transmitted by direct skin-to-skin contact with an infected person or by using clothing, blankets, sheets, towels or furniture that has touched an infected person's skin. Scabies easily spreads during the close physical contact of sexual activity. However, scabies also can be passed from person to person in various nonsexual settings in which people live in close quarters, including hospitals, nursing homes, prisons, day-care centers and homes. Anyone can catch scabies, including doctors, nurses, teachers, toddlers and elderly people in wheelchairs. Having scabies is not a sign that someone is dirty, careless or sexually promiscuous.
To continue reading this article, you must
log in
.
Subscribe to Harvard Health Online for immediate access to health news and information from Harvard Medical School.