Miscarriage
What Is It?
A miscarriage is a loss of a pregnancy. The term is generally used when the loss occurs before 20 weeks of gestation. Other terms that are used for such losses include spontaneous abortion and early pregnancy failure.

About 15% to 20% of known pregnancies end in a miscarriage. Most miscarriages happen before the pregnancy is 12 weeks along. In the first several weeks of a pregnancy, a miscarriage sometimes happens because a fertilized egg did not properly form a fetus. In many cases, the activity of the fetal heart stopped days or weeks before the symptoms of miscarriage began.

A common sign of miscarriage is bleeding, although not all pregnancies with bleeding end in miscarriage.

In the years before ultrasound, a miscarriage was usually diagnosed after bleeding had started and the process of expelling the pregnancy had begun. Today, ultrasound may identify pregnancy loss before the body has begun the process of expulsion. Sometimes this finding is called an "early pregnancy failure."

Miscarriages and possible miscarriages are categorized in several ways:

Threatened miscarriage — A miscarriage is considered threatened or possible, when any bleeding from the uterus occurs before 20 weeks but the cervix is closed and there is evidence of continued fetal heart activity.
Inevitable abortion or miscarriage — A miscarriage is called inevitable, if there is bleeding from the uterus and the cervix is opening, but neither the fetus nor placenta has passed out of the woman's body yet. The membranes around the fetus may or may not have ruptured (broken).
Incomplete abortion or miscarriage — A miscarriage is incomplete when a portion of the pregnancy tissue (fetus or pregnancy sac and placenta) has passed out of the uterus prior to 20 weeks gestation, but some of the placental or fetus remains in the uterus.
Complete miscarriage — A miscarriage is complete if the fetus, all the membranes around the fetus and the placenta are expelled completely and the cervix closes prior to 20 weeks.
Missed abortion or miscarriage — A missed abortion refers to a miscarriage in which the fetus has died. This means no heart beat is present when either a heartbeat has been noted before or when the fetus is of a size in which a heartbeat would always be expected in a healthy pregnancy. However, neither the fetus nor the placenta has been expelled from the uterus.
Recurrent miscarriage — A woman is said to have recurrent miscarriage after three or more miscarriages in a row.
Blighted ovum or an embryonic gestation — This occurs when a gestational sac forms inside the uterus, but no fetus is present after seven weeks.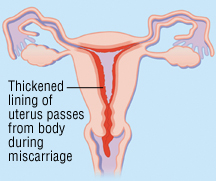 If a pregnancy ends after 20 weeks, it is usually not labeled a miscarriage even though it is a pregnancy loss. The term "stillbirth" is generally used when a fetus is delivered beyond 20 weeks but is not living.
Problems with fetal chromosomes account for approximately 50% of all miscarriages. Chromosomes are long strings of DNA, each containing thousands of genes. Genes, in turn provide the instructions for the proteins and other molecules that create, shape and govern our bodies and health.
To continue reading this article, you must
login
.
Subscribe to Harvard Health Online for immediate access to health news and information from Harvard Medical School.