Stress
Watch Dr. Michael C. Miller, editor in chief of the Harvard Mental Health Letter, talk with Martha Stewart about reducing stress.
Free tools to help you cope with stress
In a world bursting with situations that can cause stress — such as traffic jams, layoffs, illness, and money woes — it's not surprising that many people are feeling stressed out. This online resource center will help you to understand the ways in which daily stress affects your body and how you can reduce these damaging effects. You'll find links to a variety of tools and publications on this page. We hope you find them helpful!
Portable guide to stress relief [PDF]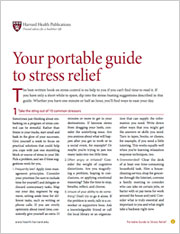 Whether you have only one minute or half an hour, you'll find a helpful stress-busting suggestion in this guide. (view as HTML)
---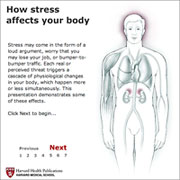 An interactive illustration that shows how stress triggers a cascade of physical changes that prepare you to fight a perceived threat—or flee.
---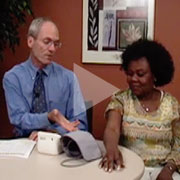 Stress causes blood pressure to rise. This video shows how to monitor your blood pressure at home so that you can make sure it's not rising too high.
---

Five common questions about how stress affects your health. The answers help reveal why stress often feels so bad.
Stress Related Articles
Related resources