Weekly walking prevents hip fracture in men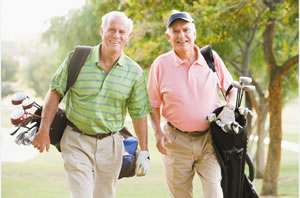 Image: Thinkstock
Regular walking significantly lowers the lifetime risk for men of having a hip fracture, says a study published online Feb. 13, 2014, in the American Journal of Public Health.
The fracture research draws on the Health Professionals Follow-up Study, which tracked the health status of men 50 and older starting in 1986. Every two years, the men filled out a survey about their habits, including how much time they spent walking or sitting.
Over 24 years, 490 of nearly 36,000 men (about 1.5%) reported having a hip fracture after a fall. Men who walked four or more hours a week were 43% less likely to have a fracture, compared with men who walked an hour or less. Assuming that the walking was responsible for all of the reduced risk, it may have prevented 12 fractures over a period of 24 years. That's a modest but real benefit.
To continue reading this article, you must
login
.
Subscribe to Harvard Health Online for immediate access to health news and information from Harvard Medical School.