Heart Beat: When stocks crash, heart attacks go up
The country's financial downturn has caused a lot of economic pain, usually measured in terms of lost jobs and home foreclosures. It may be time to add a health dimension to the misery index, with heart attacks soaring as the stock market crashes (American Journal of Cardiology, Dec. 1, 2010).
Researchers at Duke University reviewed medical records for 11,590 people who had undergone testing for heart disease during a three-year period, and then compared monthly heart attack rates with stock market levels. Heart attacks increased steadily during one eight-month period — September 2008 to March 2009 — that was particularly bad for the stock market (see graph).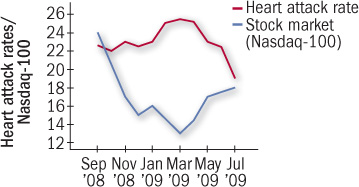 While you can't control the stock market, you can take extra precautions to protect your heart when the economy tanks. The basics consist of a healthy diet, regular exercise, stress management, and taking medications as prescribed. Think of these lifestyle habits as a long-term investment in your health.
To continue reading this article, you must
login
.
Subscribe to Harvard Health Online for immediate access to health news and information from Harvard Medical School.