Ask the doctor: Exercise versus pharmacologic stress testing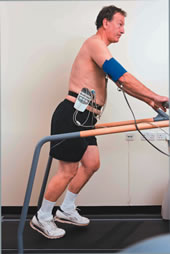 Photo: Thinkstock
An exercise stress test done on a treadmill.
Q. I was having occasional chest pains, and my primary care physician recommended a stress test. Because I have bad knees, the cardiologist had me take a stress test using a medication instead of doing exercise. Fortunately, the results were normal. But it made me wonder: is one type better than the other?
A. During an exercise stress test, you walk or run on a treadmill (or pedal a stationary bike) to make your heart work hard. Your heart rate, breathing, and blood pressure are monitored, and an electrocardiogram records your heart's electrical activity during the test. An exercise stress test has the advantage of helping your doctor determine what level of exercise is safest for you.
To continue reading this article, you must
login
.
Subscribe to Harvard Health Online for immediate access to health news and information from Harvard Medical School.